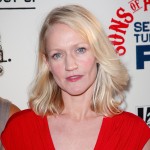 April 23, 2011
LOS ANGELES, Calif.
Jennifer Lawrence, meet your "Hunger Games" mother.
Former "Caprica" star Paula Malcomson has been cast in the upcoming Lionsgate film as the mother of Katniss (Lawrence) and Prim Everdeen (Willow Shields), according to The Hollywood Reporter.
It's the latest casting news surrounding the much-buzzed about project, based on the Suzanne Collins trilogy, slated for a March 2012 release.
Access the Full Story