'Hunger Games' giveaways rules
Rules
NO PURCHASE NECESSARY TO ENTER OR WIN THE PRIZE.  This promotional giveaway ("Sweepstakes") is conducted by NBC Subsidiary (KNBC-TV), LLC on behalf Access Hollywood ("Sponsor") and is subject to eligibility requirements and conditions. To enter, go to AccessHollywood.com and complete the required fields on the entry form.  By submitting the entry form, you will be automatically entered to win two (2) tickets to "The Hunger Games" premiere currently anticipated to take place in Los Angeles, California on March 12, 2012 (the "Prize").  To be eligible, entrants must be 18 years of age or over as of the date of entry and a legal U.S. resident.  The Sweepstakes is void where prohibited. Entrants must have a valid registered e-mail address and provide a contact telephone number. One entry per person per week.  A winner will be selected by random drawing from all of the entries received during each entry period beginning on or about February 2, 2012 at 10:00 AM (PST) and ending at 11:59 AM (PST) on February 22, 2012 (the "Entry Period").  The drawing will be conducted after the end of the Entry Period.  All entries submitted during the Entry Period will be void after the expiration of the Entry Period.  The winner may be contacted via telephone and/or email within one week of drawing at Sponsor's sole discretion.  The winner will be required to provide personal information verifying eligibility as well as signed affidavit of eligibility.  If you meet all of the eligibility requirements and conditions above, the Prize will be made available for pick-up at will-call on the day of the premiere.  If winner cannot be contacted after a reasonable effort has been made during three (3) business days of Sponsor's first attempt, or if an entrant is found to be ineligible, an alternate winner will be selected.  Employees of Sponsor and any entity supplying the Prize during the given Entry Period, their parent, affiliate and subsidiary companies (collectively, "Companies") are not eligible to enter.  By participating in the Sweepstakes, entrants agree to release and hold harmless Companies, Lionsgate Entertainment, their employees from and against any and all harm, injury, liability, claims and damages resulting from or arising in connection with entering or winning the Sweepstakes or the Prize.  One Prize will be awarded.  Odds of winning Prize will depend on the number of entries received in a given Entry Period.  The Prize may be substituted for an alternate prize of similar value at Sponsor's sole discretion.  Approximate retail value of the Prize shall not exceed fifty dollars.  All federal, state and local laws apply.  The winner is responsible for all incidental costs and/or taxes, if applicable, associated with the Prize, expressly including the cost of traveling to Los Angeles, CA.  Sponsor is not responsible for any technical, mechanical, software, or hardware malfunctions of any kind in connection with the Sweepstakes.  Companies and Lionsgate Entertainment do not warrant, represent, or guarantee, express or implied, in fact or in law, the quality, merchantability, and/or fitness of the Prize for any given purpose. The Sweepstakes shall be governed by, construed and enforced in accordance with the laws of the State of California. Any action brought by entrant or any other third party in connection with the Sweepstakes shall be brought only in either the State or Federal Courts located in Los Angeles County, California, and such party expressly consents to jurisdiction of such courts.  Sponsor reserves the right, in its sole discretion, to cancel, suspend and/or modify this Sweepstakes.  Entrant agrees to be bound by all terms and conditions of these official rules by submitting entry.
Access TV on the Web... In Case You Missed It!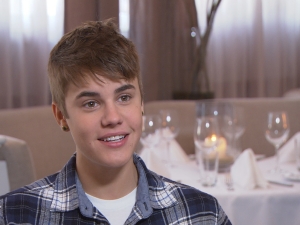 GRAB IT
Could Justin Bieber Imagine Being A Dad At 18?
Justin Bieber's success came in part due to his mom Pattie's guidance. She had him when she was just 18 years old, the same age as Justin today. So, does the young star ever think about what his life would be like if he had a baby right now?
hottest_videos