GLAM SLAM
"Dancing with the Stars" is back! And fan favorite pro-dancer Cheryl Burke is AccessHollywood.com's guest celebrity blogger for the season! Welcome Cheryl! As you know, Cheryl is teamed up with Drew Carey and she came out of the gate with a fun, sparkly look created by Emmy Award Winning makeup artist Zena Shteysel. Here is how you can recreate the look: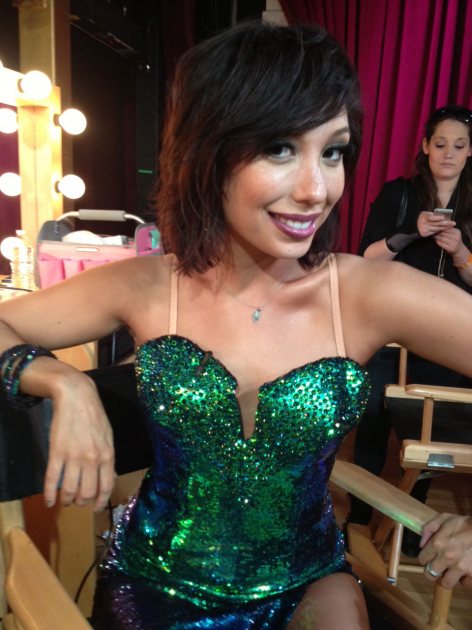 "Good skin is the most important step to a flawless makeup," Zena says. "I prepped Cheryl's skin with Embryolisse moisturizer. I then applied a blend of Stila's #8 and #11 Stay All Day foundations. These are the best foundations I've found to withstand the sweat from rehearsals throughout the day. I highlighted Cheryl's face with Cle de Peau concealer in Ochre and contoured with Ben Nye's Medium. The highlight and contour process creates dimension to Cheryl's face under the heavy stage lighting."
"Cheryl's dress was a mix of green and gold colors and very shiny so I wanted to bring that look into the makeup. I did this on the eyes using Nars Night Porter, a shimmery green shade, on the inner and outer part of the lids to leave the center lighter. I applied Makeup Geek's Cocoa Bear in crease and Beaches & Cream on the brow bone.
To make application simple and fast, I place all of my products into Z Palette, (a customizable makeup palette Zena created). This keeps me organized and focused when I have a limited amount of time to prep each look and when the pressure is on for touch ups in between commercial breaks."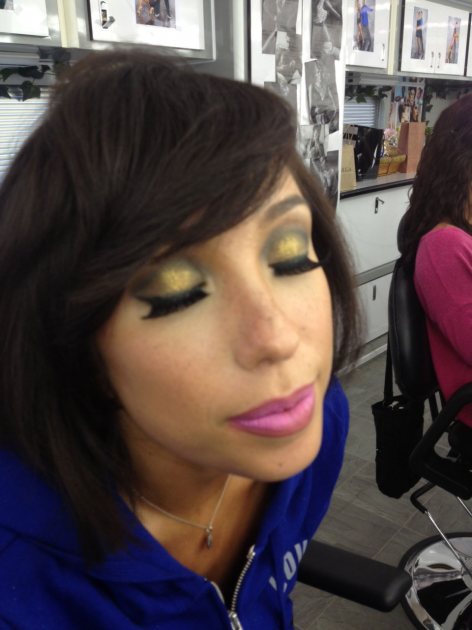 "To pop the center of the lid I applied MAC's Reflects Glitter in Reflects Bronze. This highlighted the center of the eye and created a sparkling look very noticeable when Cheryl was on camera. A great trick is to use a glitter glue, like Too Faced Glitter Glue, prior to applying glitter to prevent glitter fall out. I finished the eye off with two pairs of false lashes, Ardell's #118s and #82."
"Lastly the lips started with a bright fuchsia pink, Kevyn Aucoin's Forever lipstick, for the opening pro number and were changed to a dark purple, MAC's Cyber, for her competition dance."
-- Ryan Patterson
Copyright 2015 by NBC Universal, Inc. All rights reserved.
This material may not be published, broadcast, rewritten or redistributed.