Jennifer Lopez & Tyler Posey's 'Maid In Manhattan' Reunion At Teen Choice Awards
Jennifer Lopez and Tyler Posey were reunited on Sunday for the first time since starring together in 2002's "Maid in Manhattan" – and the "Teen Wolf" star offered J.Lo some of his dancing skills.
(Tyler Posey and Jennifer Lopez in 'Maid in Manhattan' in 2002 - Sony Pictures)
"I know we haven't seen each other since 'Maid in Manhattan,' which was forever ago," the 22-year-old actor said after giving the singer/actress a hug on stage. "But I thought that maybe, if you needed a backup dancer, I'd fit. What do you think?"
PHOTOS: Teen Choice Awards 2014: Red Carpet
Tyler then busted out a series of wacky dance moves on stage.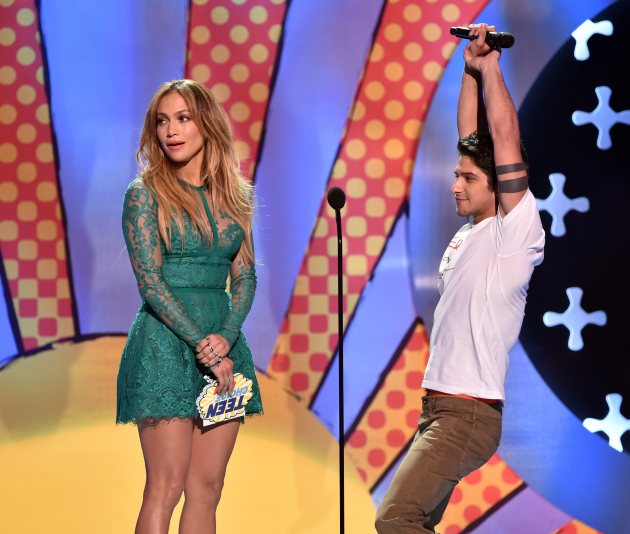 (Tyler Posey and Jennifer Lopez at FOX's 2014 Teen Choice Awards on August 10, 2014 in Los Angeles - Getty Images)
"If I say yes, will you stop?" J.Lo joked.
PHOTOS: Teen Choice Awards 2014: Inside The Show
Jennifer also shared a photo of herself and Tyler on Instagram, writing in the caption, "Aww look at Ty all grown up!! @i_love_harveys #teenchoiceawards"
Tyler posted the same pic, writing "I can't believe this happened! It's been a long time coming :) @jlo so great seeing you"
-- Jesse Spero
Copyright 2014 by NBC Universal, Inc. All rights reserved.
This material may not be published, broadcast, rewritten or redistributed.