Your Daily Roundup of Hollywood Happenings & Star Shenanigans!
Biebs Cans His Shirt In Cannes: Whether it's in the club or the street, Justin Bieber does not need a shirt! After being spotted shirtless at Gotha club (where most other patrons appeared to have kept their clothes on) in Cannes on Monday night, Justin stepped out on Tuesday sans shirt again. Roll Call's weather team determined that the French city only had a high temperature of 72 degrees on Tuesday, which was just too hot for the Biebs! The singer, flanked by security, was spotted showing off his vast collection of chest and torso tattoos. Let's hope if Biebs attends any red carpet events for any films while in Cannes that he keeps his top on.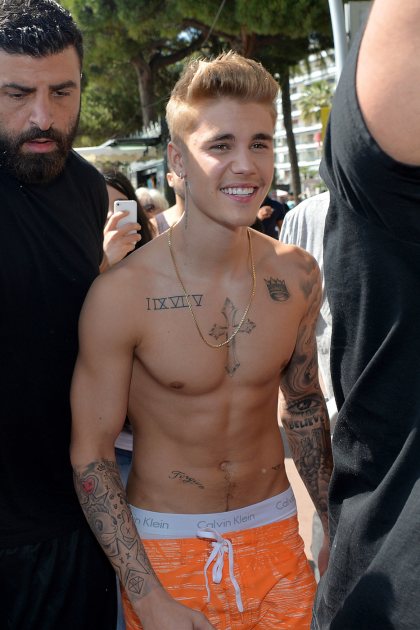 (Justin Bieber goes shirtless as he walks around the Cannes Film Festival on May 20, 2014 - Pacific Coast News)
Synergy, Is That You?: The "Jem and the Holograms" big screen project has landed an actress that many are saying could be playing Jem's artificial intelligence rocker guru, Synergy. According to Deadline, Juliette Lewis has joined the movie, but details on her role are being kept under wraps. The rocker/actress (she had her own band, Juliette and the Licks, for six years) joins "Nashville's" Audrey Peeples as Jerrica Benton (Jem) as well as Stefanie Scott (Kimber), Aurora Perrineau (Shana) and Hayley Kiyoko (Aja).
Pec Off!: Words cannot do justice to the wonder that is Jimmy Fallon and Terry Crews pec-synching performance of the Paul McCartney and Stevie Wonder hit "Ebony and Ivory."
J.J.'s Inspirational Note: "Star Wars" director J.J. Abrams reportedly sent a heartfelt note to the cast and crew of "Episode VII" According to ScreenCrush, he wrote, "Dearest Cast and Crew, What an honor it is to work beside all of you, on Star Wars Ep VII. I can't thank you enough, for all work past and future. Let's take good care of not just ourselves, but of each other. Amazing, but true: the world awaits this film. Let's give 'em something GREAT. xo JJ"
-- Jesse Spero
Copyright 2015 by NBC Universal, Inc. All rights reserved.
This material may not be published, broadcast, rewritten or redistributed.