Let the countdown officially commence. Starz has finally revealed the premiere date for its highly anticipated drama series, "Outlander."
Adventure, romance, history and men in kilts combine on the cable network series, beginning August 9 at 9 PM ET/PT.
In the series, Caitriona Balfe stars as Claire Randall, a World War II nurse, who while reconnecting with her husband Frank Randall ("Rome's" Tobias Menzies) on a lovers' retreat in 1945, finds herself drawn to a stone circle (named Craig na Dun), where she is swept back in time to 1743.
PHOTOS: 'Outlander': Meet The Cast
Finding herself caught up in the conflict between the Highlanders and the English, Claire finds an ally in a strapping young hunk named Jamie Fraser (Sam Heughan).
"This story is quite a passionate. It's an adventure, but it's also a passionate love story," Caitriona told Access Hollywood in January at the Television Critics Association Winter Tour, of the show.
'Outlander': How The Cast Describes The Show
On Thursday, Starz also released the key art for the drama, which exemplifies Claire's struggle – her husband, Frank, reaching out to her from the 1940s, and her Highlander, reaching toward her from the past.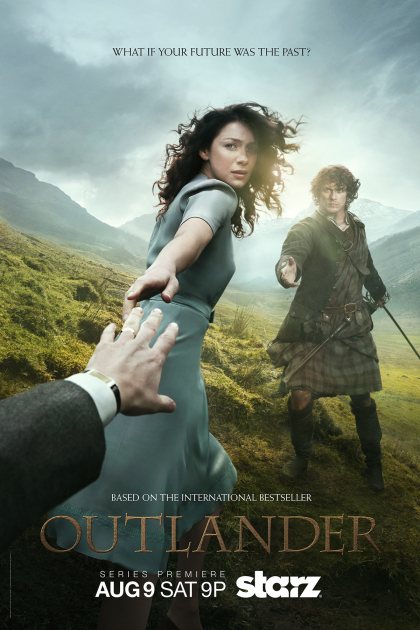 The key art for Starz original series 'Outlander' (Photo Credit: Starz)

Addressing Sam's portrayal of Jamie, the sexy, kilted Highlander from Diana Gabaldon's "Outlander" book series (which the show is based on), Caitriona said her co-star gives a layered performance.
"We have so much fun on set, but I think the thing Sam brings, which is so necessary to this role, is there's this beautiful mix of strength and vulnerability, which I think is sort of really crucial to Jamie," Caitriona told Access. "And he's just such a sweetheart."
PHOTOS: On Screen & On The Red Carpet: Male Stars In Kilts!
Sam, who was cast first, said his co-star, Caitriona, won the role almost immediately.
"We knew from the second that she came into test and she left the room, we all knew that she was the one. She had to play Claire Randall," Sam told Access, back in January. "And she does, she absolutely walks on set on set and she controls the whole thing with humor and skill. And yeah she's an absolute joy to work with."
-- Jolie Lash
Copyright 2015 by NBC Universal, Inc. All rights reserved.
This material may not be published, broadcast, rewritten or redistributed.