Your Daily Roundup of Celebrity Gossip & Star Shenanigans!
Nothing Like A Good Weave Yank!: "The Real Housewives of Atlanta" Reunion took a violent turn during a taping on Thursday, when cast members Kenya Moore and Porsha Williams (who have never been the best of friends) reportedly got into a physical altercation. "A fight broke out that had to be broken up," a source told People. And it's wouldn't be a Bravo show unless someone's hair (or hair system) was messed with. "There was definitely some hair pulling, but no one was injured. It broken up so quickly that nothing serious happened," the source added. [People]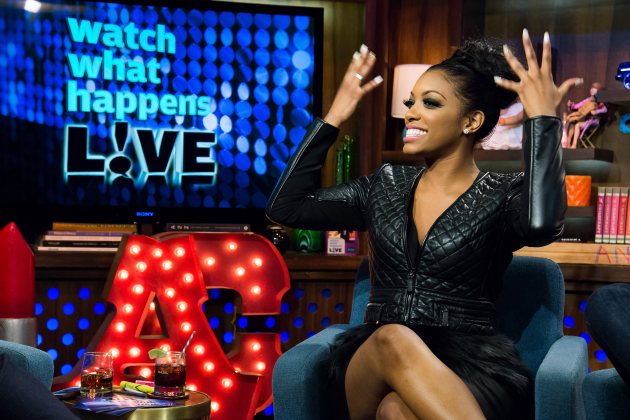 Selena Gets Served: Literally! Selena Gomez was just trying to get a cool beverage while out in Los Angeles on Thursday, when the singer was served with legal papers. According to TMZ, she is being subpoenaed to testify in case involving Justin Bieber and a photographer, who claims the young Canadian singer kicked him in 2012. [E! News & TMZ]
PHOTOS: Celebrity Social Photos: The Week's 10 Must-See Shots!
Hilary Duff's New Look: Hilary Duff debuted a new look! "Suuuuper blonde. No extensions @uppercasey murdered my color today 5 hrs. 100+foils," she wrote in a photo caption on Twitter that showed off her new lighter locks. [Twitter]
Suuuuper blonde. No extensions @uppercasey murdered my color today 5 hrs. 100+foils #nobiggie pic.twitter.com/z5TBPnVj7X

— Hilary Duff (@HilaryDuff) March 28, 2014
Spider-Man Doesn't Care About The Critics: While talking about the upcoming sequel to "The Amazing Spider-Man," star Andrew Garfield was quick brush off his critics. "When I put that suit on, I felt freer. I can't think of a word to use that's not the f-word, but, like, screw the critics! Screw the scrutiny," he told IGN. "That's the motto for life, as well. If there's one bit of advice I could give my childhood self, it would be don't care what people think of you." [YouTube]
-- Jesse Spero


Copyright 2015 by NBC Universal, Inc. All rights reserved.
This material may not be published, broadcast, rewritten or redistributed.