Your Daily Roundup of Hollywood Happenings & Nerdy Comic-Con Shenanigans!
Avengers Are Assembling!: San Diego Comic-Con has kicked off and Marvel is kicking it into high gear, debuting new concept art for the upcoming "Avengers: Age of Ultron." The new images feature Iron Man, Black Widow, Captain America and Scarlett Witch all battling Ultron… well, lots of Ultrons (did someone clone himself?). These posters are available at the Marvel booth at SDCC or right here if you're not in San Diego!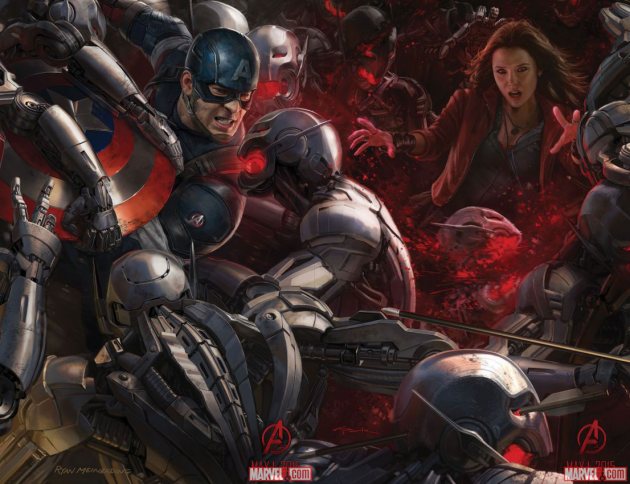 ('Avengers: Age of Ultron' SDCC concert art - Marvel)
Batfleck At The Con: No word if Ben Affleck will come to Comic-Con, but his "Batman V. Superman: Dawn of Justice" costume sure has! Check out the cowl and cape that actor will be wearing as he battles Superman!

Batfleck costume is in the house! pic.twitter.com/wJCYm4S1ne

— dan didio (@dandidio1) July 24, 2014
"Ant-Man" First Look": Comic-Con has also brought fans the first look at Paul Rudd and Michael Douglas in the upcoming "Ant-Man," courtesy of Entertainment Weekly. And yes, there is a guy riding an ant… check out the first look poster!
More Comic-Con Possible Moments: With so many stars and major movie announcements at Comic-Con it's hard to keep up. Check out five (plus a few more) possible major announcements we're hoping to find out this year in AccessHollywood.com's Comic-Con: 5 Possible Nerdgasm Moments!
-- Jesse Spero
Copyright 2015 by NBC Universal, Inc. All rights reserved.
This material may not be published, broadcast, rewritten or redistributed.