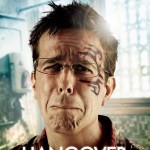 June 21, 2011
LOS ANGELES, Calif.
The tattoo artist who sued over Ed Helms' tattoo in "The Hangover Part II" has settled his lawsuit over the design, which resembles the facial ink the artist created for Mike Tyson.
Warner Bros. spokesman Paul McGuire said Monday that the movie studio and S. Victor Whitmill amicably resolved their dispute. McGuire declined to discuss the case further.
In the movie, Helms' character, Stu, wakes up in a Bangkok bathtub with a facial tattoo.
Access the Full Story