"The Walking Dead" Season 5 is in production and AMC gave fans a first look, dropping a photo of Rick Grimes (Andrew Lincoln) on Tuesday.
In the photo, a bloodied Rick, aka "the ringleader," seems to be peering out of the train car the Terminus gang put his group into at the end of Season 4.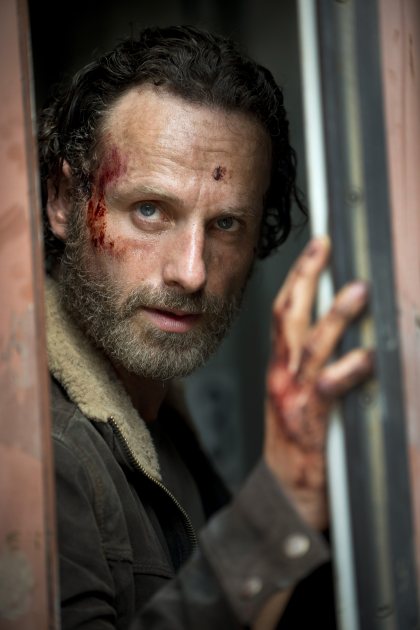 PHOTO: Andrew Lincoln as Rick Grimes in 'The Walking Dead' Season 5 (Gene Page/AMC)

When the series ended its Season 4 run in March, Rick's group was somewhat reunited, albeit under serious circumstances, as Sasha, Bob, Maggie and Glenn saw Rick, Daryl, Carl and Michonne inside the Terminus train car. Newcomers to the group – Tara, Dr. Eugene Porter, Sgt. Abraham Ford and Rosita Espinosa – were also present – possibly being primed as dinner for the Terminus crew (who had bones and skins drying out in the sun – something Rick & co. ran past as they tried to escape in the finale).
PHOTOS: 'The Walking Dead': Behind The Scenes Candids
Carol and Tyreese (with baby Judith) apparently had not yet made it to Terminus, while Beth's whereabouts are still unknown.
"You should be concerned. It's a dire circumstance, definitely," Danai Gurira, who plays "samurai" Michonne, told Access Hollywood in April, about Season 5.
WATCH: Norman Reedus Career Flashback: What Was It Like Appearing In An Early Radiohead Video?
"These people are not very nice," she continued of the Terminus group. "We're not checked into the Four Seasons in there, so yeah, it's a pretty scary thing."
Danai also hinted that Season 5 will have high stakes.
"I can tell you that it's gonna be dire and it's gonna be intense," she added. "It's all the things you tune in to see. It'll be that and then some."
-- Jolie Lash
Copyright 2015 by NBC Universal, Inc. All rights reserved.
This material may not be published, broadcast, rewritten or redistributed.