In today's Glam Slam feature: How pretty does Stacy Keibler look? She's positively radiant — one of the beauty benefits of being pregnant! For the rest of us, a few beauty tricks can help create a gorgeous glow… and more.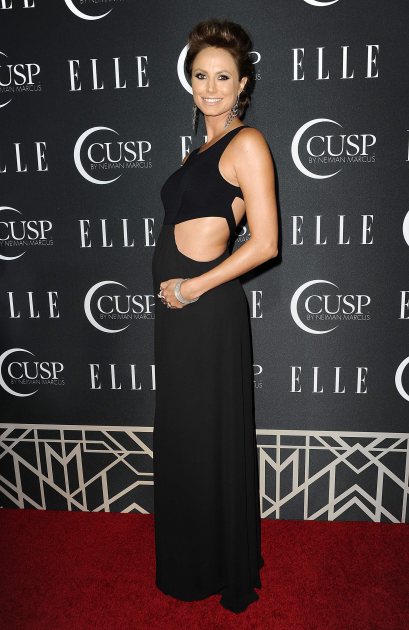 The new issue of People StyleWatch reveals 50 of the Best Beauty Tips.
"These are some of our favorite beauty tips and tricks – and they really work," says the fabulous Holly Carter, beauty director of the magazine. "We road tested many of these ourselves, and the put the ask out to our industry expert friends."
Here are a few to try out:
Mix lip balm into foundation for a dewy finish
"Spring is a great time to lighten up your makeup and create a dewy look," says Carter. Try mixing up your lip balm with your foundation to create a nice sheen. Just blend a dab of clear balm into your foundation on the back of your hand, then apply.
Fill in brows with #2 pencil
This sounds too wacky to be true, but it works! Take a #2 pencil, (it is now lead-free, afterall), and lightly fill in the brow line to create fuller brows. This is great in a pinch, and works well for brunettes and blondes.
Perfect eye makeup with a credit card
Use the corner of a (clean!) credit card to de-clump mascara while it's still wet. Or try using the straight edge of the card to help guide you when drawing a cat-eye eyeliner.
Depuff skin with frozen aluminum foil
Keep a sheet of aluminum foil in the freezer and when you need soothing, put it on your face for 15 minutes. The coldness of the foil tightens pores and refreshes your look!
Sleep on your back to minimize fine lines
Try using an airplane neck pillow to help encourage sleeping on your back. It helps you stay on your back, while not allowing you to press your face into the pillow, which can cause wrinkling over time. It's great on your spine too!
Moisturize hair with coconut oil mask
Coconut oil has vitamin E and fatty acids that can help soften hair," says Carter. Try taking a tablespoon of coconut oil and heating it up in the microwave. Apply to dry strands—especially the ends—and leave on overnight. Shampoo off the next morning. Helpful hint: Add a towel over your pillowcase so it won't get greasy!
-- Ryan Patterson