With summer just around the corner, it's time to get serious on shedding those extra winter pounds.
Celebrity trainer and author of the "Total Body Transformation", Michelle Bridges, visited Access Hollywood Live to share her tips to getting in bikini-ready shape. Her weight loss motto is simple; eat breakfast like a king, lunch like a prince and dinner like a pauper.
Egg White Omelet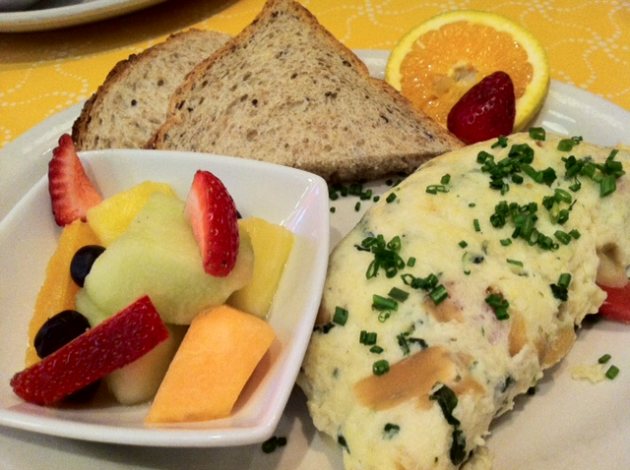 (Serves 1)
5 egg whites
1 scallion, chopped
4 cherry tomatoes, halved
Olive oil spray
1 slice whole-grain bread, toasted
1 small garlic clove
Whisk the egg whites in a bowl. Add the scallions (or sprinkle in some dried mixed herbs instead), pepper and tomato. Heat a small nonstick frying pan and spray with olive oil. Pour in the egg mixture and cook for 2 – 3 minutes or until cooked through. Fold over and serve on a slice of toasted bread that has been rubbed with garlic.
Penne with Feta & Lemon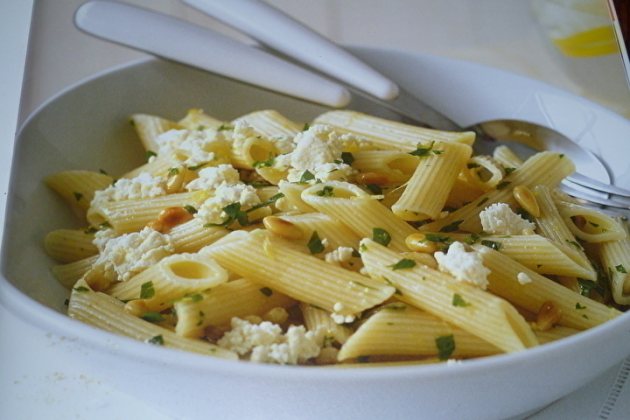 (Serves 2)
2 cups penne pasta
1 tsp. grated lemon zest
2 tbsp. lemon juice
2 tbsp. olive oil
1/2 cup crumbled low-fat feta
1 tbsp. pine nuts, toasted
1 tbsp. parsley, chopped
Cook pasta in boiling water. Meanwhile combine lemon zest, juice and olive oil in a jar and shake. Place cooked penne in serving bowl, crumble feta over the top, and toss with pine nuts, parsley and dressing.
Pan-Fried Shrimp & Scallops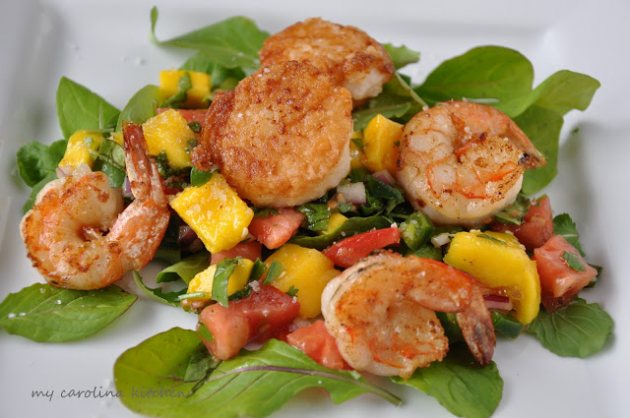 (Serves 2)
1 garlic clove
1/4 cup freshly squeezed orange juice
1 1/2 tbsp. fresh lime juice
1 tbsp. extra-virgin olive oil
1 tbsp. chopped basil
1 tbsp. chopped parsley
1 lg. handful arugula
1 orange
2 lg. tomatoes
6 scallops
6 shrimp
1 garlic clove
To make the dressing, combine garlic, orange juice, lime juice, olive oil, basil, parsley and pepper. Arrange the arugula on platter and scatter the orange and tomato on top. Lightly oil a nonstick frying pan and cook the scallops and shrimp for 1 – 2 minutes each side (shrimp will take a little longer). Arrange over the arugula salad. Add the garlic to the pan and cook for 10 seconds. Pour the garlic and any juices over the salad with dressing and serve.
Tomato, Mozzarella & Basil Stacks

(Serves 2)
2 lg. plum tomatoes, cut into ½-inch thick rounds
5 oz. mozzarella, sliced into ½ -inch thick rounds
12 whole fresh basil leaves
1 tbsp. extra-virgin olive oil
2 tsp. balsamic vinegar
Black pepper
Arrange the tomato rounds in a single layer on a plate and top each with a slice of mozzarella and a basil leaf. Combine the olive oil, vinegar, and pepper and drizzle over the stacks.