In today's Glam Slam feature: Cameron Diaz does not appear to have an ounce of fat of sign or cellulite anywhere, showing off her toned body and those mile-long legs in a plunging Stella McCartney mini last night at the premiere of her new film "The Other Woman."
Not all of us are so lucky…or quite so flawless!
While there are plenty of pricey treatments and products available to help us all look our personal best, there's no need to spend a fortune when you can often create your own beauty treatments from things you have in your own pantry!
Beauty expert Alexis Wolfer's new book, "The Recipe for Radiance," is chock full of advice, tips and recipes to help you feel and look great. I wanted to share two that caught my eye…
Cellulite-Concealing Coffee Scrub
(All Skin Types)
Ingredients:
1/2 cup caffeinated coffee grounds
1/4 cup wheat germ oil
Directions:
Mix the coffee grounds and wheat germ oil together to form a thick paste.
Standing in the bath to reduce mess, apply the mixture to cellulite-covered skin.
Cover it with tightly wrapped plastic wrap and let it sit for 30 minutes.
Remove wrap before vigorously rubbing the mixture in upward circular motions for at least 5 minutes.
Rinse clean with warm water
Since the results of this scrub are temporary, for best results repeat daily.
Note: You can use either fresh or used (but cooled!) coffee grounds in this recipe.
Quick Tip:
Self-tanner—or even bronzer—can help conceal the appearance of cellulite. It's a trick models and celebrities like Kim Kardashian swear by. The shimmer distracts and conceals for more flawless-looking legs.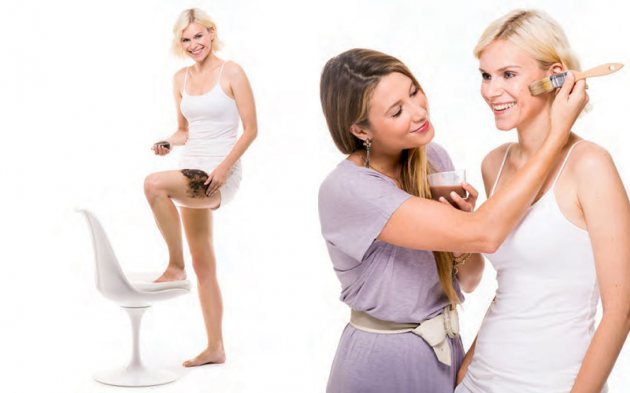 Age-Reversing Wine Mask
(All Skin Types)
Ingredients:
1 egg
1 egg yolk
3 tablespoons red wine
Directions:
Whisk all ingredients together until well combined.
Use a pastry brush to apply a thin layer to your face, neck, and décolleté, avoiding your eye area.
Let dry before washing off with warm water and washcloth.
Quick Tips:
Ginnifer Goodwin washes her face with organic extra-virgin cold-pressed coconut oil, which, she says, "is something everybody can do." It's antibacterial and hydrating, making it ideal for all skin types—and it removes even the most stubborn makeup!
Apply all your anti-aging products (and DIY remedies!) to the backs of your hands, too—they're one of the first places to show signs of aging and are far too often neglected
Recipes reprinted with permission from "The Recipe for Radiance" by Alexis Wolfer, Running Press, a member of the Perseus Books Group.
-- Ryan Patterson