Music's elite and celebrities remembered Chris Cornell at a somber memorial service Friday that focused on the Soundgarden frontman's love of family and friends as much as it did on his musical achievements as one of rock's leading voices.
"Chris was as melodic as The Beatles, as rocking as Sabbath and as haunting as Edgar Allan Poe," said Tom Morello, Cornell's bandmate in the supergroup Audioslave, during his eulogy.
Linkin Park's Chester Bennington performed Leonard Cohen's "Hallelujah" for the crowd of mourners, including Brad Pitt, Pharrell Williams, Christian Bale and numerous members of rock royalty, some of whom were driven to tears.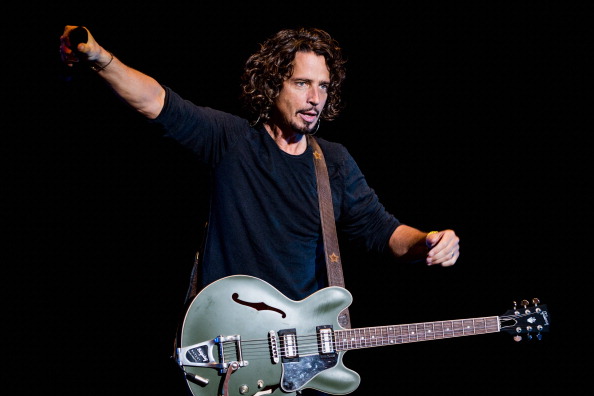 Four large portraits of Cornell were on display on a dais where Morello, actor Josh Brolin and the rocker's Soundgarden bandmates Kim Thayil and Matt Cameron delivered eulogies under overcast skies at Hollywood Forever Cemetery.
Fans gathered outside the cemetery's gates hours before the start of a public memorial scheduled for 3 p.m. Pacific.
READ: Chris Cornell Dies At 52: Elton John, Gavin Rossdale & More Music Stars React
The ceremony ended and mourners headed to Cornell's final resting place in the Garden of Legends section of Hollywood Forever Cemetery. "All Night Thing" by the band Temple of the Dog, which Cornell was a member of, played during the procession.
Flowers and several red roses were placed on Cornell's grave marker, which reads, "Voice of our generation and an artist for all time"
Cornell is buried near Johnny Ramone, whose headstone includes a statue of the punk rocker playing guitar.
Among those who came to pay tribute were Lars Ulrich and James Hetfield of Metallica, Dave Navarro of Jane's Addiction, singer-songwriter Joe Walsh and Bush's Gavin Rossdale.
WATCH: Chris Cornell: Do His Kids Understand His Rock Star Status? (Access Archives)
Before the service, Soundgarden music played from a portable speaker outside the cemetery's gates as a group of about a dozen fans gathered outside. By the end of the service, their numbers had grown to about 50 people.
Melody Andrade brought her 4-year-old son Jude to pay their respects to Cornell. The pair wore matching T-shirts that read, "Say Hello 2 Heaven," the title of a Temple of the Dog song written by Cornell.
"I feel like this is just as big as the death of Elvis or John Lennon. That's why I had to bring my son," Andrade said. "There will never be another. He's a modern day Freddie Mercury. I needed some closure on this."
Hollywood Forever Cemetery is the final resting place for numerous stars, including Jayne Mansfield, Douglas Fairbanks, Rudolph Valentino and Cecil B. DeMille.
Cornell, 52, was pronounced dead May 18 after he was found unresponsive in a Detroit hotel room hours after performing a concert with Soundgarden. Coroner's officials said preliminary autopsy results show the singer hanged himself, but full toxicology results remain pending. The singer's family has disputed the findings and claim Cornell may have taken more of an anti-anxiety drug than he was prescribed.
The Seattle native was a leading voice of the grunge movement in the 1990s. Besides Soundgarden, he scored hits as a solo artist and with bands Temple of the Dog and Audioslave.
He is survived by his wife and three children.
Vicky Cornell penned an open letter to her husband that was posted online by Billboard on Wednesday in which she promised to fight for him and take care of their children.
READ: Chris Cornell's Widow Writes Letter To Late Rocker: 'I Know That Was Not You'
"We had the time of our lives in the last decade and I'm sorry, my sweet love, that I did not see what happened to you that night. I'm sorry you were alone, and I know that was not you, my sweet Christopher. Your children know that too, so you can rest in peace," she wrote.
Copyright © 2023 by Associated Press. All Rights Reserved.
This material may not be republished, broadcast, rewritten or redistributed.