Cinco de Mayo is almost here, which means you better have the right food and drink for your fiesta!
On the Food Network show, "Mexican Made Easy," chef Marcella Valladolid whips up lots of yummy Mexican-inspired dishes that are simple to make and are sure to be a hit with the entire family. Marcella stopped by Access Hollywood Live to share a few of her favorite recipes, perfect for a Cinco de Mayo celebration or any day of the week.
Watch Marcella's segment and find the recipes below!
WATCH: Marcella Valladolid's Cinco De Mayo Menu
Wedge Salad with Avocado Cilantro Dressing
(Serves 4)
1/4 cup fresh radishes, julienned
1/4 cup tortilla strips, preferably homemade
2 tablespoons roasted pepitas
1/4 cup fresh tomatoes, finely diced
4 endives, leaves separated
Avocado Cilantro Dressing (recipe follows)
1/4 cup crumbled queso fresco
1/4 cup pork chorizo, cooked and drained
In large mixing bowl, mix radishes, tortilla strips, pepitas and tomatoes. In a serving plate, arrange endive leaves, 1 whole endive per plate. Top with radish, tortilla, pepitas, tomato mixture. Drizzle with about 2 tablespoons of avocado cilantro dressing. Garnish with queso fresco and chorizo. Serve immediately.
For Avocado Cilantro Dressing: (pictured)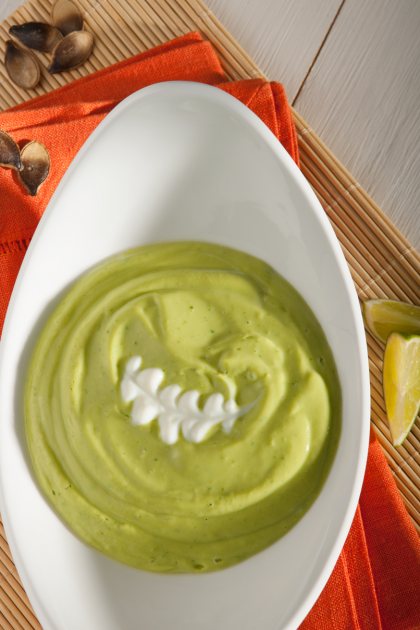 (Avocado Cilantro Dressing - courtesy of Avocados from Mexico)
1 large ripe avocado, peeled and seed removed
1/2 cup buttermilk
1/4 cup Mexican crema
2 tablespoons fresh cilantro leaves, roughly chopped
1/2 teaspoon garlic powder
2 tablespoons freshly squeezed lime juice
1 jalapeno, stemmed, deveined, and seeded
Salt to taste
Pepper to taste
For the dressing:
Meanwhile, add all ingredients for avocado- cilantro dressing except for salt and pepper into a blender. Process until smooth and creamy, about 3 minutes. Season to taste with salt and pepper and reserve.
Bandera
(Servings: 4 )
This cocktail is traditionally served all over Mexico. Bandera means flag in English and it is called that because it has all three colors of the Mexican flag. I've added fresh avocados and oysters to this to serve at a party.
For the Red:
1/2 cup orange juice
1/2 cup tomato juice
1/3 cup fresh lime juice
1 jalapeno chopped, stemmed, and seeded
For the Green and White:
Salt
1/2 cup avocado, pitted, peeled, and diced into 1-inch cubes
4 fresh oysters of your choice off the shell
2 ounces tequila blanco
Lime wedges for serving
Method of Preparation:
For the red, combine all the ingredients listed for the red in a blender. Process until smooth and transfer to a pitcher. Place in refrigerator for about 30 minutes to 1 hour until chilled. Serve cold equally divided into 4 shot glasses.
Rim 4 separate tequila shot glasses with salt. Add 2-3 pieces of avocado to each shot glass. Then add 1 oyster to each shot glass and finish off by adding 1/2 ounce of tequila to each shot glass. You will end up with a shot glass half filled with liquid.
You will serve each person 2 shot glasses: one of them, filled with the red liquid to the top and the other one, rimmed with salt, half way filled with tequila, avocado, and oyster. You fill the white and green shot with the red liquid to fill to the top. You sip on the rimmed one with the avocado and oyster, biting into the avocado pieces and oyster at the end. Make sure to serve with lime wedges in case you would like to drizzle lime over the oyster.
Baja Lobster Roll

(Baja Lobster Roll - courtest of Avocados from Mexico)
(Serves 4-6)
1 pound raw lobster meat cut into 1-inch pieces, patted dry
Kosher Salt
Pepper
2 tablespoons unsalted butter
3/4 cup avocado, mashed
1 tablespoon orange zest
2 tablespoons fresh orange juice
1 tablespoon white wine vinegar
3 tablespoons chopped fresh dill
2 tablespoons capers, drained
2 tablespoons minced red onion
2 guajillo chiles, seeded, stemmed, and ground into powder (using a spice grinder)
4-6 mini flour tortillas (If you don't have access to smaller ones, use scissors to cut large tortillas into 5-inch rounds)
1 avocado, peeled, pitted, sliced
Lime wedges
Heavily season lobster meat on both sides with salt and pepper. Heat butter in a large sauté pan on medium high heat. Add lobster and cook for about 6 minutes, or until fully cooked. Set aside.
In a large bowl, whisk together the mashed avocado, orange zest, orange juice, vinegar, 1/2 teaspoon salt, and 1/2 teaspoon pepper. When the lobster meat is cool, add it to the sauce and toss. Add the dill, capers, red onion and guajillo powder and toss gently to combine and being careful not to smash lobster meat.
Heat flour tortillas directly over a gas burner on medium-high heat for about 1 minute per side or until brown spots appear. Add about 3 heaping tablespoons of lobster salad to the tortillas. Garnish with 2 pieces of freshly sliced avocado. Serve warm with lime wedges, immediately.