In today's Glam Slam feature: Kate Middleton continued her non-stop parade of fab fashion in Australia wearing three different outfits on Easter, including a beautiful light grey Alexander McQueen coat, which she chose for Easter Sunday services in Sydney.
Thank goodness we don't have to keep up with Kate and her enviable designer wardrobe…as well as that of the ever-stylish Prince George!
We were doing good just to get dressed and get out the door on time! (In one outfit, no less.)
We went to an Easter egg hunt (pictured) held at a Beverly Hills park. (Fun fact: I saw Toby Maguire and his family there!) Let's face it, Los Angeles is a very casual city and so it was nice to see so many people dressed up — really dressed up for out here!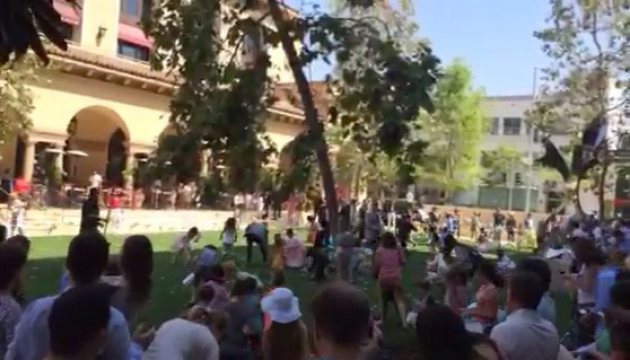 The children, in particular, stole the show and it was adorable to see so many little kids dressed in cute sundresses, bow ties and seersucker. The kids had fun with a visit from the Easter bunny, the egg hunt, cookie decorating and Easter crafts. We then ate too much at a delicious Easter brunch.
Somehow our family ended up wearing a lot of black! Not very spring-y, I know. I ended up in black because I scored big time at Madewell's sale this weekend and I got this eyelet dress for more than 60 percent off! Richard went with black and our oldest daughter wore her "fancy" black and white dress. Our youngest was the only one wearing any color — she celebrated her first Easter in an very appropriate sundress — pink with bunny rabbits on it. Pretty cute dress, if I do say so myself.
It was fun to get all dressed up and celebrate the day and enjoy being together as a family.
-- Ryan Patterson