GLAM SLAM
Coachella is less than a month away and if you're desert bound (or heading to Bonnaroo, Glastonbury, Lollapalooza or any other upcoming music festival), make sure you're down with the perfect festival fashions like Coachella vet Vanessa Hudgens.
Jeannie Mai, style expert for The Hunt, (the first community-based app that makes pictures shopable), shares five ways to flaunt your #FreeSpiritedSide.
Lounge-worthy Lace
Nothing says come hither like lace in the day. Lace can be treated as an accent to any material, like lace shorts with a button up flannel tied around your waist, a rocker tee layered underneath. Or a lace-lined brassiere peeking out from a loose tank top, boyfriend jeans sagging at the waist. Showing those sexy peaks of skin will help keep you cool in the festival heat!
Boot-ilicious
Yes, there are many options to go with the chill, vibin' flow when it comes to footwear, but there's nothing cute/confident/comfy about your feet hurting from heels you can't walk to the port-o-potty in or icky dirt and grass that has begun kicking up onto your toes. Take it from a Burning Man, Coachella,"Hot Day South Bay" vet, you want chillax, flat boots that say I'm ride-or-die. Look for a low heel if you must, and invest in worn leathers that look better with each passing year. (Diane Kruger, pictured below at Coachella, nails the flat boot look).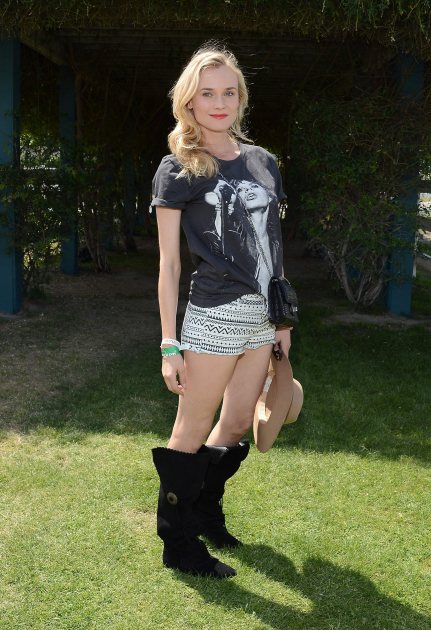 Care-Free Kimonos
Kimonos may not be the first thing that pops to mind when rocking out, but Kimono-style sleeves and necklines are a perf way to add a hippie nod to the music festival scene. Plus they're super easy to style around once you've layered the look on. Pair with a t-shirt and denim cut off shorts for an effortless base, then personalize it with pops of bangles, feather earrings, hand chains or motoboots. Throw up your deuces and done.
Cross Body Baggin'
I'm all about that cross-body-bag-life for one important reason: who doesn't love arms free dancing to your fave band? Cross body bags can start at like $20 in a variety of styles. I suggest any that have hang appeal with fun movement like fringe, beads, or chains to put some swag to your sway.
Whip Your Hair Back & (Fashionably) Forth
Gone are the days where hair accessories are functional for long locks. Nowadays, even a headband doesn't have to be used to hold hair away from the face. (Thanks Lupita Nyong'o!) No matter what look you're going for at a festival, an accent in your hair adds a flirty finish. Try a floral headband, mismatched barrettes to sweep back those bangs, a scarf as a turban, or even a dainty necklace draped low on your forehead.
-- Ryan Patterson