Another year, another stellar Oscar red carpet with loads of beautiful women in beautiful gowns.
As usual, it was a blast to be at the awards and this year, in particular, was fun because we had an awesome fashion team of Johnny Weir, Tara Lipinski and Louise Roe (we're all pictured).
Despite some drizzly weather, which was brutal on the hair, there were very few misses this year.
Here are the five looks that I like the most.
WHO: Jennifer Lawrence
WEARING: Dior Haute Couture
WHAT: "Red wool crepe evening gown with peplum detail."
WHY? Red hot, that's why! JLaw's strapless gown features clean, simple lines and a figure flattering cut. Age appropriate and an instant classic. The necklace worn down her back is a nice touch.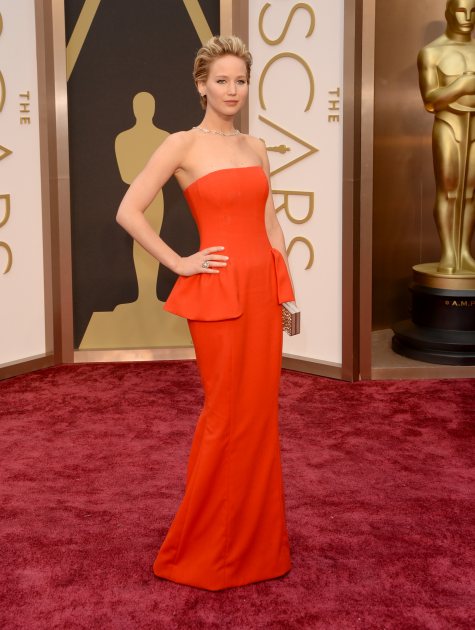 WHO: Lupita Nyong'o
WEARING: Prada
WHAT: "Custom designed light blue silk georgette soleil pleated gown with a deep V-neck top and low cut sides. The skirt is enhanced with delicate crystal beading on the edges of the pleats. She completed her look with satin platform sandals and a matching raso clutch with baguette crystal detail, framed in gold. All by PRADA."
WHY? After an entire award season wearing just about every shade of the rainbow, Lupita once again goes for color although this time, she went for a softer look as opposed to more bold hues of past red carpets. The pale blue makes a striking contrast against her beautiful complexion and for finishing touches, I love the gold headband and accessories. The perfect way to accessorize the Best Actress gold statuette she got to take home!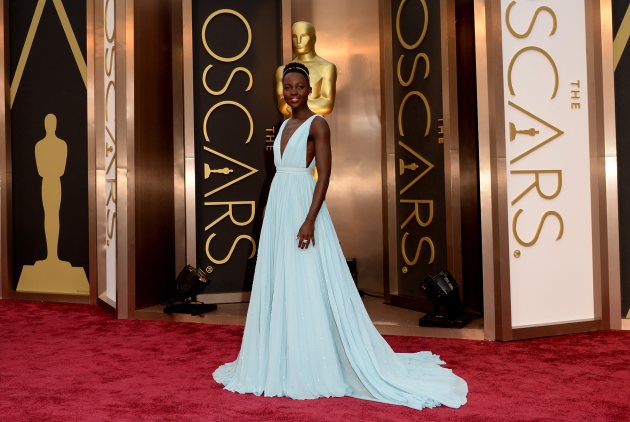 WHO: Cate Blanchett
WEARING: Armani Prive
WHAT: "The romantic cap-sleeve dress in a soft gold-color features a long, flared tulle skirt with crinoline edging, fully embroidered with raised dégradé sequins and light gold Swarovski crystal baguettes."
WHY? Ethereal and delicate are the first words that come to mind to describe Cate's beyond amazing and timeless gown. I expected a lot from her and she more than delivered.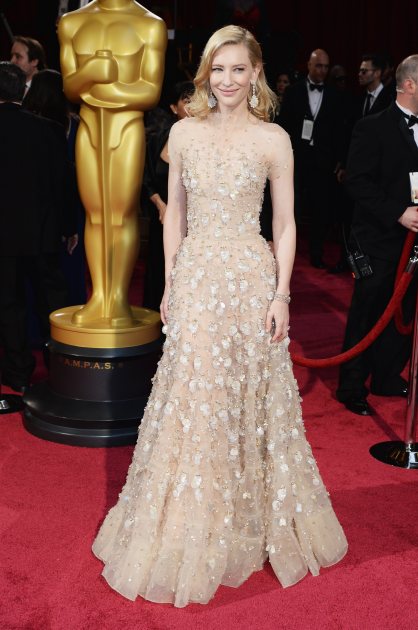 WHO: Angelina Jolie
WEARING: Elie Saab Haute Couture
WHAT: Metallic beaded sheer gown
WHY? The workmanship on this dress is absolutely stunning…it looks like cascading sparkles! Ultra feminine and the epitome of elegance. Well done! PS- Brad and Angie got the biggest cheers from the crowd of anyone on the red carpet.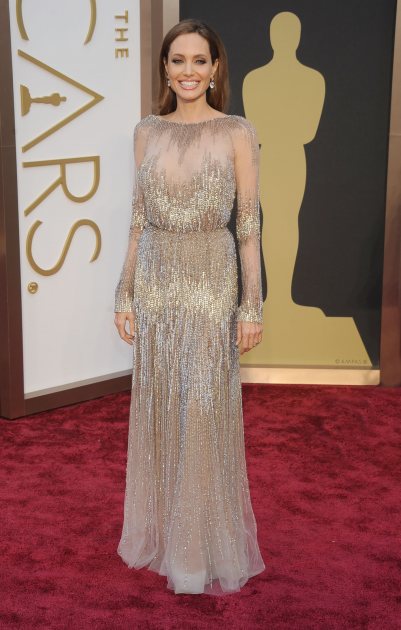 WHO: Kate Hudson
WEARING: Atelier Versace
WHAT: Plunging beaded gown with cape detail.
WHY? Old Hollywood Glamour at it's best. Kate, rocking retro waves, looks like one va-va-voom sexy blond bombshell a la Jean Harlow. Gorgeous and that cape takes the look up a notch- unforgettable.

-- Ryan Patterson