In today's Glam Slam feature: The always stylish Jessica Alba is obviously a big fan of the classic white shirt. She's a pro at making this wardrobe staple look anything but basic!
Here are five ways to take the classic white shirt to the next level from InStyle.
Pair With a Sheer Skirt
Choose a longer style that peeks through the skirt's sheer fabric – it's flirty without being too revealing. Hello date night! Just make sure to keep the skirt knee length or longer to get the full effect.
Deconstruct a Tuxedo
Try a white shirt with black piping for a menswear inspired mood. Match it with an undone tie and tailored blazer for extra tomboy chic. A fitted bottom and sleek heel keeps the look flirty, not frumpy.
Layer Under a Bustier
A creative way to bring the boudoir to happy hour – just keep it unbuttoned up top. Stick to a solid, conservative bustier (black is always a good bet!) to avoid a look that ventures into costume territory. Sleek, dark jeans or a pencil skirt are the perfect complement and keep it sexy and unexpected. (For inspiration, Julia Roberts wore a white shirt under her bustier dress at the Globes!)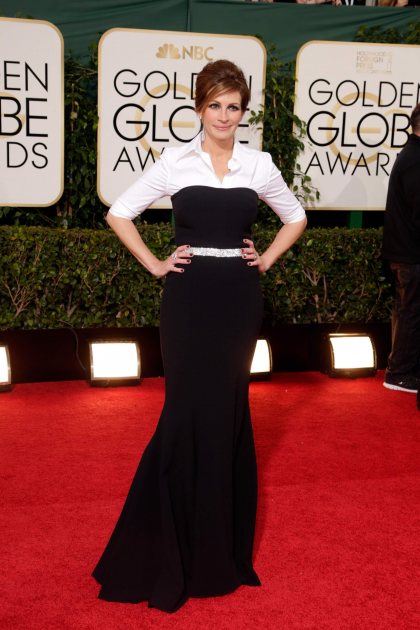 (WireImage)
Slip Under a Dress
A crisp white shirt can give new life to your favorite dress or repurpose a low cut number for the work place. Tuck a sculptural necklace underneath the collar to turn this schoolgirl look on its head.
Unbuttoning the Bottom
Copy the catwalk and keep the lower half open to showing off a great printed bottom while further defining your waist.
Take it Black Tie
A simple white skirt paired with a ball gown skirt is oh-so-Audrey Hepburn. Channel old-school socialites with this elegant and effortless look. You can also opt for a white shirt with an interesting detail, like a peplum bottom, to add polish.
InStyle is on sale now!

-- Ryan Patterson