How low can she go?
Forget a plunging neckline. Showing off the ladies has never been a bigger trend, but Kim Kardashian took it even further with a completely unbuttoned blouse and it was not on a red carpet.
Yesterday, she rocked a black tuxedo with NO bra, which she flaunted while taking baby North for an oh-so-casual afternoon stroll in her stroller. While dozens of paparazzi snapped away. Oh yes she did. Leave it to Kim to take things up a notch. Or five.
She must have been leaving a photo shoot. I sure hope so. All I can say is there are quite a few famous parents at my daughter's preschool and not once have I ever seen anyone dressed anything remotely like that… coming or going from a photo shoot!
There was definitely a run on double stick fashion tape yesterday. Jennifer Lopez showed off her décolletage – wearing a plunging white number on "The Tonight Show Starring Jimmy Fallon" last night. Simple and so sexy.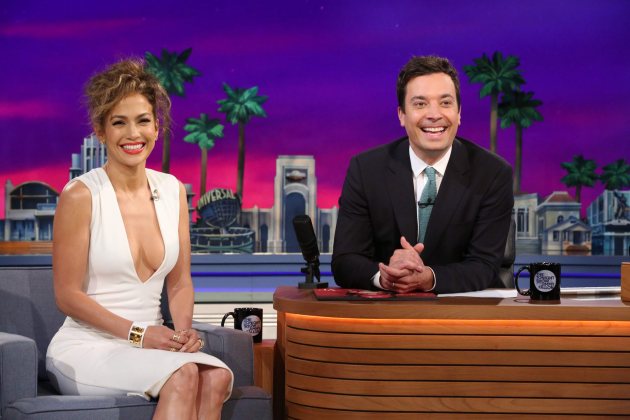 (NBC)
Chrissy Teigen was also stunning in a low cut white belted dress paired with Casadi heels at last night's 2014 Fragrance Foundation Awards in New York.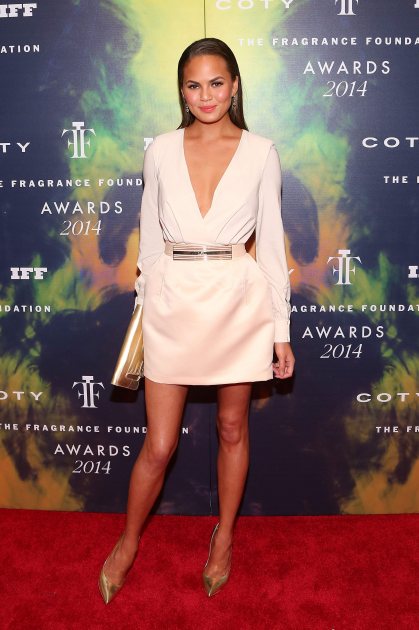 (FilmMagic)
Last night, Halle Berry also got in on the action with a form fitting dress that accentuated her curves. She hit the red carpet for the Los Angeles premiere of her upcoming show, "Extant" wearing a gunmetal metallic knit cocktail dress by British designer Jenny Packham.

(FilmMagic)
The gunmetal metallic knit cocktail dress with embellished neckline and cuffs from the 2013 Autumn/Winter Collection.
-- Ryan Patterson