Your Daily Roundup of Hollywood Happenings & Star Shenanigans!
Another Huge Hamm Item: Jon Hamm has made plenty of headlines for things he's blessed with and now the "Mad Men" star's head is making headlines! It appears that when it comes to the record for the largest head to ever appear on "Saturday Night Live," Jon is only bested by one other. "I'm sort of known for having a giant head," Jon said on "Late Night with Seth Meyers" on Thursday. "So the first time I went to ['SNL's'] hair and makeup… I asked the nice ladies, 'Honestly, I have the biggest head ever right?'" But Jon's large noggin was eclipsed by one of this former co-stars in "The Town." "There was one guy in the history of the show that had a bigger head than me… Ben Affleck has a bigger head than me," he explained. Jon ended up doing an impartial measuring of Ben's head with the help of one of his own fitted baseball hats. "It sat on top of his head like a little toy hat," he explained. "I was like, 'That is a giant dome!'"
Brad Pitt, Jason Priestley… And A Penis Pump?: On Thursday's "Watch What Happens Live," Jason Priestley was asked about the most homoerotic thing that ever went down when he was Brad Pitt's roommate in 1987. "There was no wrestling, but the third roommate in that apartment, Bernie, he had a penis pump that he bought because he thought it was gonna make his c**k bigger," Jason recalled. "He used to go in the bathroom and like put this thing on. And we could hear it making this pumping noise and stuff. And me and Brad used to sit outside like, 'What is going on?'" Adding, "He had his junk in that thing all the time!"
Miley Walks Into A Bar, Walks Out In A Bra: Just another night being Miley Cyrus. She entered Madame Jojo's nightclub in London wearing a top, but while inside, it appears have to come off. The singer left with just a bra on. But, while inside, she did put on a red wig… naturally.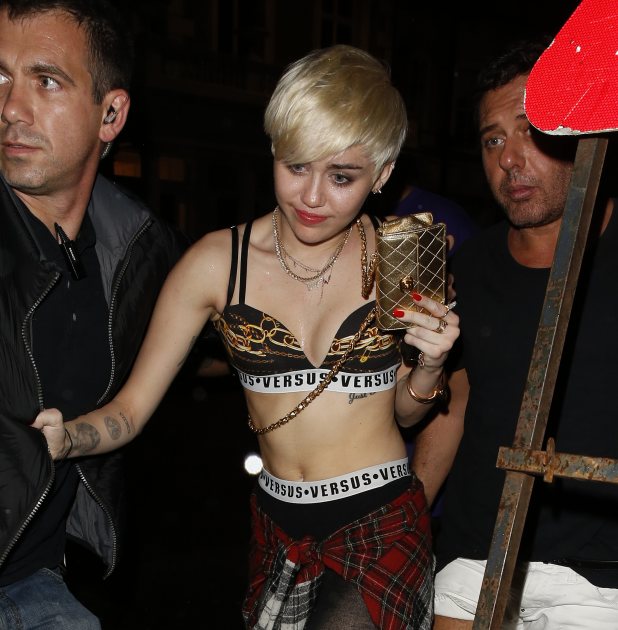 (Miley Cyrus seen leaving a party held at Madame Jojo's on May 8, 2014 in London - Getty Images)
Did Lady Gaga Call Out Katy Perry?: Are there one too many pop stars touring with horses and colored wigs? Lady Gaga has spotted a trend and possibly thrown some shade towards Katy Perry. "It looks like green hair and mechanical horses are the thing now," Gaga Tweeted on Thursday. Fun fact, Katy has been sporting a green wig and used a mechanical horse on her tour… all things Gaga did previously… Somewhere Madonna is very amused by this!
It looks like green hair and mechanical horses are the thing now 👀

— Lady Gaga (@ladygaga) May 8, 2014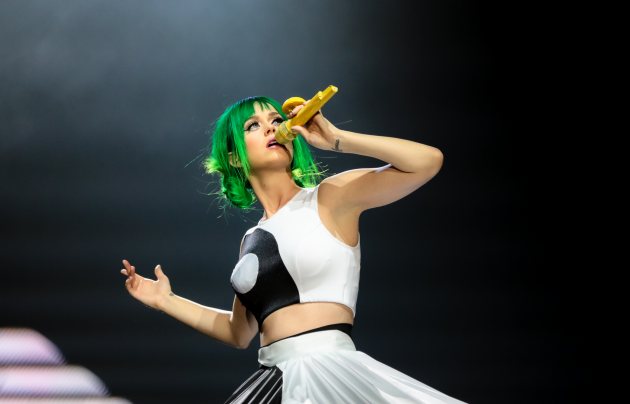 (Katy Perry performs on stage on the opening night of her Prismatic World Tour at Odyssey Arena on May 7, 2014 in Belfast - Getty Images)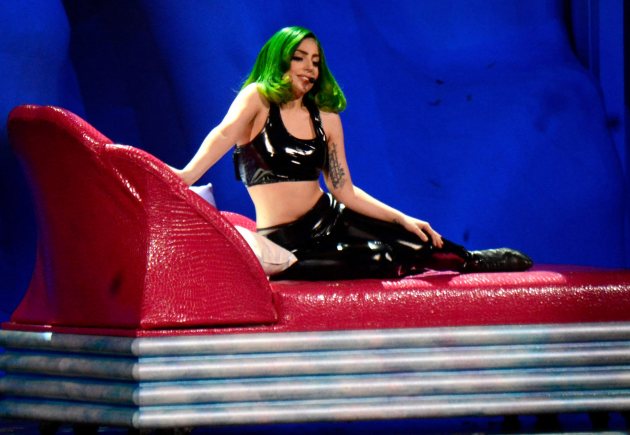 (Lady Gaga performs onstage during her 'artRave: The Artpop Ball' at Consol Energy Center on May 8, 2014 in Pittsburgh City - Getty Images)
(Katy Perry performs on stage on the opening night of her Prismatic World Tour at Odyssey Arena on May 7, 2014 in Belfast - Getty Images)
(Lady Gaga arrives at the 2013 American Music Awards at Nokia Theatre L.A. Live on November 24, 2013 in Los Angeles - Getty Images)
-- Jesse Spero