In today's Glam Slam feature: Wow! Kate Middleton looks better than ever!
And that little George is just the cutest thing — I'm obsessed with his cheeks.
During her royal tour of New Zealand, Kate has looked like her usual perfectly-put-together self, no surprise there. Like her, I also have an 8-month-old and yet, I am leagues away in the style department.
Of course, we are not on a level playing field — she has a designer wardrobe, private secretary, a beauty team and a full-time live in nanny, so I'm not gonna beat myself up about that.
But, there are plenty of style tips any mom can take away from her!
GO FOR BOLD COLOR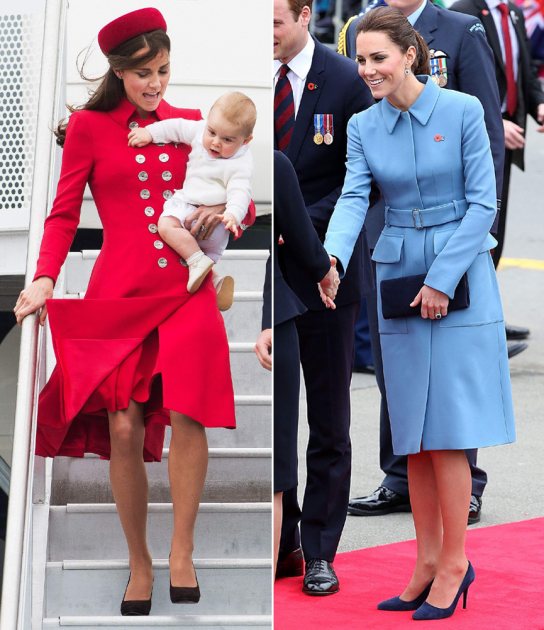 Love, love, love the red Catherine Walker ensemble she wore when departing the plane. It's a real stand-out-from-the-crowd type of look and along with the blue Alexander McQueen military style coat, is a good reminder that yes, we could all use a little more color in our wardrobes. I find myself wearing black and dark colors all the time because they don't show dirt and kid stuff that gets all over my clothes. Color is an instant mood booster and instant complexion pick-me-up — a good thing when you are running on fumes from lack of sleep!
PRINTS ARE THE PERFECT CAMOFLAGE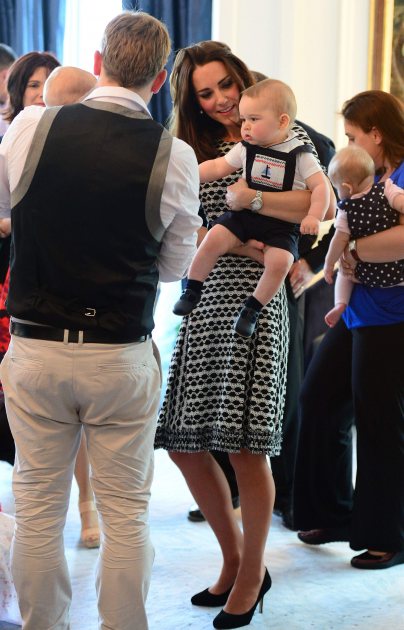 Kate's black and white geometric print Tory Burch dress is not only flattering, it's brilliant when it comes to hiding stains. She also wore a printed Max Mara dress earlier on the trip, proving that prints are an awesome way to conceal all those kiddie messes.
BLACK WILL ALWAYS BE CHIC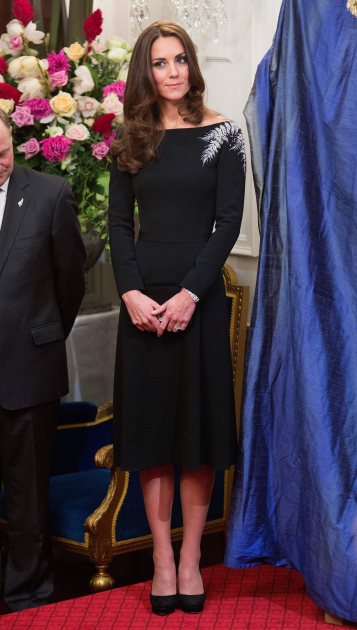 The regal Kate exuded class, elegance and style in the black, bespoke Jenny Packham dress. No, I don't own a custom dress either, but as we all know, black hides a multitude of new-mom-sins as well as those afore mentioned kid stains!
A BLAZER IS YOUR BEST (AND MOST VERSITLE) FRIEND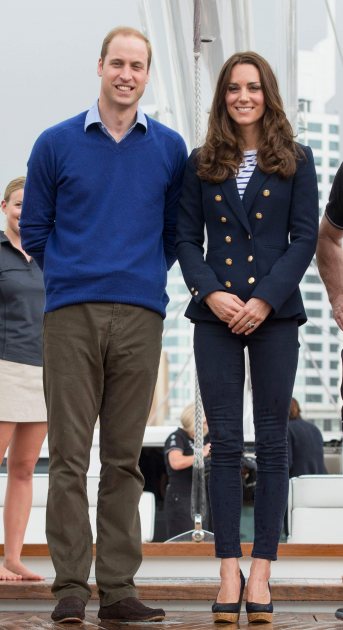 A classic navy blazer will instantly upgrade any outfit, help hide any extra weight, and never go out of style. Definitely worth the investment.
KEEP HAIR AND MAKEUP ON THE NATURAL SIDE
Kate's signature long, loose hair style and her polished pony tail, not only look great, but are practical and easy for most of us to do too. Who has time for elaborate hairdos and makeup when you are chasing around little kids? Simple is always better in my opinion.
LET YOUR CHILD TAKE CENTER STAGE
While there are plenty of fashion watchers constantly checking out Kate's enviable wardrobe, George is dominating the spotlight these days. Who can resist a cute baby? He's quite the scene stealer and that takes the pressure of always have to deliver on the style front for Kate- or any mom, for that matter. Not that George's wardrobe is too shabby either…his $125 Rachel Riley outfit will most likely sell out- just like his mom's clothes do!
-- Ryan Patterson