Macklemore has issued an apology for a costume he wore last weekend at the opening night of the "Spectacle: The Music Video" exhibition at Seattle's EMP Museum – a getup that many called offensive for perpetuating stereotypes about the Jewish culture.
"Family, friends and fans alike who know me well, know that I'm absolutely not the person described in certain headlines today. There is no worse feeling than being misunderstood, especially when people are hurt or offended," the chart-topping rap star wrote in a statement on his website.
"On Friday night we had a surprise show at the EMP Museum in Seattle. Earlier in the day I thought it would be fun to dress up in a disguise and go incognito to the event, so that I could walk around unnoticed and surprise the crowd with a short performance. I picked up a bunch of fake mustaches and beards and grabbed a left over wig from our recent trip to Japan," the 30-year-old continued.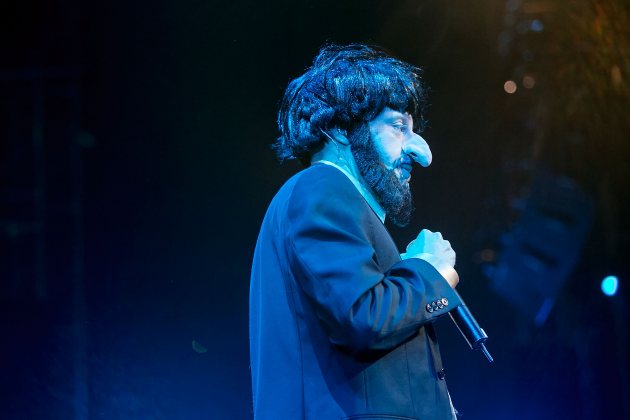 (A costumed Macklemore performs at the opening night of 'Spectacle: The Music Video' exhibition at EMP Museum on May 16, 2014 in Seattle - Getty Images)
WATCH: Macklemore & Ryan Lewis Discuss Their 'Emotional' Peformance Of 'Same Love'
The Grammy winner said he thought he resembled popular '90s rap persona Humpty Hump.
"As it turns out the fake noses they sell at the costume store are usually big (my nose didn't fit most of them). So I ended up with a big witch nose. I went with a black beard, because that's the furthest color from my natural hair. Disguise was the intention. I personally thought I looked very ambiguous in terms of any 'type' of person. Some people there thought I looked like Ringo, some Abe Lincoln. If anything I thought I looked like Humpty Hump with a bowl cut," the statement continued.
He then went on to acknowledge that his costume, which he first said was "not my idea of a stereotype of anybody" in a Tweet about the incident, could be seen as "a Jewish caricature."
WATCH: Mary Lambert On Her Moving 'Same Love' Grammy Performance: 'I Cried For 48 Hours'
"My intention was to dress up and surprise the people at the show with a random costume and nothing more. Thus, it was surprising and disappointing that the images of a disguise were sensationalized leading to the immediate assertion that my costume was anti-Semetic. I acknowledge how the costume could, within a context of stereotyping, be ascribed to a Jewish caricature. I am here to say that it was absolutely not my intention, and unfortunately at the time I did not foresee the costume to be viewed in such regard. I'm saddened that this story, or any of my choices, would lead to any form of negativity," he continued.
(A costumed Macklemore performs at the opening night of 'Spectacle: The Music Video' exhibition at EMP Museum on May 16, 2014 in Seattle - Getty Images)
Adding, "I truly apologize to anybody that I may have offended. I hope this better explains the situation and my point of view."
-- Jesse Spero