In today's Glam Slam feature: We're one week away from the Costume Institute's 2014 Met Ball's Gala, the hotly anticipated star-studded annual fashion event.
This year, legendary American designer Charles James (pictured with models in his gowns circa 1950) is being honored.
Hairstyles during this era were finely polished with texture and sophistication and a woman's look was never shiny or sleek – but rather kept romantic and elegant, according to celebrity hair stylist Ricardo Rojas, of Ricardo Rojas Atelier. Ricardo, who has worked with everyone from Mariah Carey and Kate Moss to Eva Longoria and Jessica Chastain, illustrates a few styles he predicts will be taken from the Charles James era and brought into 2014.
FRENCH TWIST UP-DO
Ricardo predicts that we will see an updated version of the classic 1950's French Up-Do on the red carpet this year. "This was an iconic style during the Charles James era, as it elegantly pulled the hair away from the woman's face, allowing the neck and jewels to be accentuated, while leaving plenty of room to showcase the intricate design of the dress."

(French Twist Up-Do -Ricardo Rojas)
Styling tips:
Start with a fresh blowout as the foundation and spray at the roots to enhance the texture of this style
Create two sections and pull back as if you are making a ponytail
Once you reach the point where you would normally band your ponytail, begin to twist your hair while tucking under in the center
Use pins to secure the twist and use a light hairspray to finish the look
VINTAGE WITH A TWIST
The prominent art deco style is sure to pay tribute on the red carpet, and Ricardo predicts that we will see the classic style in variations of updated twists!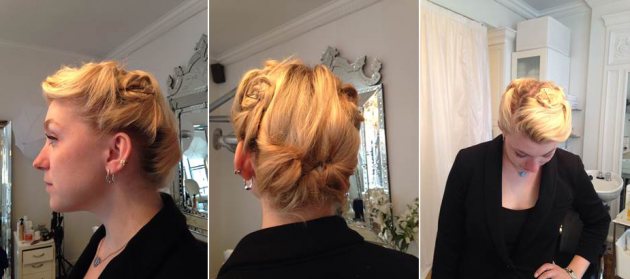 (Vintage with a Twist - Ricardo Rojas)
Styling tips:
Part to the side and section each side off. Braid, then twisted each section
Let the bobby pins show so it gives it more of a vintage and effortless look
MODERN GRECIAN PONYTAIL
This is a style that evoked the royal appeal of the late 1940's when women began combining femininity with sexual appeal, found in the designs of Charles James. To create a current version of this hairstyle, Ricardo suggests following the below tips:
Styling tips:
Wash and dry for a fresh start
Use a small amount of volumnizing spray on the roots
Use a medium curling iron to curl the hair from front to back in sections
The curls will create a trendy beach wave
Pull the curls back and wrap into side ponytail
SHORT CUT WITH WAVES
Ricardo believes that stars who don short haircuts will walk the red carpet with their hair parted in the middle, reminiscent of the late Duchess of Windsor, Wallis Simpson. To bring this look into the year 2014, Ricardo suggests the below styling tips:
Styling tips:
Part the hair in the middle
Create texture by twisting a few sections of hair on each side
Pin each twist back with a bobby pin
LOW-CHIGNON
The Charles James era was all about soft hair and bold style. Ricardo predicts that we will see stars walking the red carpet with a chic, low chignon, that is timeless and sophisticated.

(Low-Chignon - Ricardo Rojas)
Styling tips:
A foundation is the key to any hairstyle
Blow dry and curl into sections to add texture
Sweep hair back from the face into a ponytail -Circle hair and clip into place
SOFT PONYTAIL
During this era, hair was always kept soft and elegant.
Styling tips:
Length is key to this look!
Part the hair on the middle and simply band the ponytail on the side
To hide the elastic tie, take a piece of hair and twist it around the band. Use a bobby pin to secure.
-- Ryan Patterson