Miley Cyrus (almost) bares all, yet again!
The 21-year-old singer appears nude in W Magazine, where in addition to leaving little to the imagination, she responds to her haters while celebrating her sexuality.
"I just don't get what half the girls are wearing. Everyone to me seems like Vanna White. I'm trying to tell girls, like, 'f**k that. You don't have to wear makeup. You don't have to have long blonde hair and big t**ties. That's not what it's about. It's, like, personal style.' I like that I'm associated with sexuality and the kind of punk-rock sh*t where we just don't care," she told the March issue of W.
Miley explained that she's taking a style page from singers who paved the way for her.
WATCH: Miley Cyrus: Madonna Wasn't My First Choice For 'Unplugged' Duet

"Like Madonna or Blondie or Joan Jett – Jett's the one that I still get a little shaky around. She did what I did in such a crazier way. I mean, girls then weren't supposed to wear leather pants and, like, f***king rock out. And she did," she continued.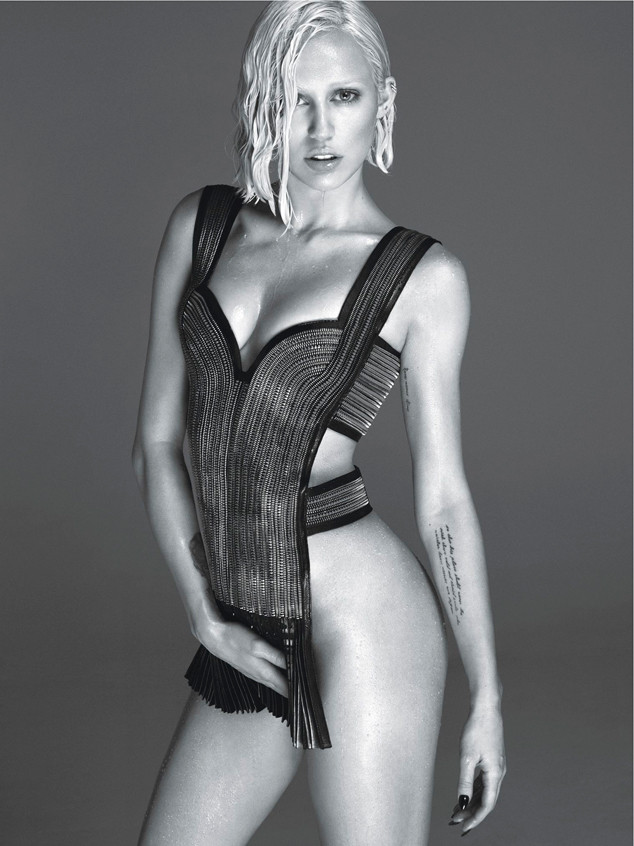 She also responded to critics regarding her upcoming "Bangerz" tour, in the interview by Ronan Farrow.
"I don't give a sh**," she said when asked about the criticism around her show. "I'm not Disney, where they have, like, an Asian girl, a black girl, and a white girl, to be politically correct, and, like, everyone has bright colored T-shirts. You know, it's like, I'm not making any kind of statement. Anyone that hates on you is below you, because they're just jealous of what you have."
PHOTOS: Stars In Their Underwear
As for success, Miley told the mag she's content.
"You know, I've made my money. If no one buys my album, cool. It's fine. I've got a house, and I've got dogs that I love. I don't need anything else," she said.
That also goes for boyfriends.
"That's why I'm, like, not trying to jump into a relationship…I love my music so much, and I love what I'm doing so much that that has become my other half – rather than another person. And so, yeah, I feel like I had to be able to be 100 percent," she explained.
-- Jesse Spero