GLAM SLAM
I celebrated my very belated February birthday on Sunday surrounded by good friends and Diane von Furstenberg.
Well, at least I was surrounded by her iconic dresses.
My lovely friends organized a brunch at LACMA, where the Diane exhibit "Journey of a Dress" has been extended until May 1.
What a fashionable way to celebrate! The exhibit was very busy and women…and men…were dressed to the nines to check it out. The exhibition starts with a timeline of the wrap dress, which turned 40 this year. Enormous wall-to-wall visuals show the history of the dress over the years and everyone from Madonna to Michelle Obama wearing the wrap dress. There's also an art salon featuring Andy Warhol works and an interactive gift shop complete with "Wrap Shot" photo booth where they print out the exhibit photos you post on Instagram.
But the main attraction — of course — the dresses!
There are 198 dresses from the last 40 years on display. The dresses divided by prints. There's a section of animal prints, a section of florals, graphic prints, etc. Each look lists the year and it's cool to see a dress from 1974 and one from today side by side, because you realize how timeless these designs are. In fact, in many cases, it's tough to tell which of the looks is retro and which is present day — they are that classic.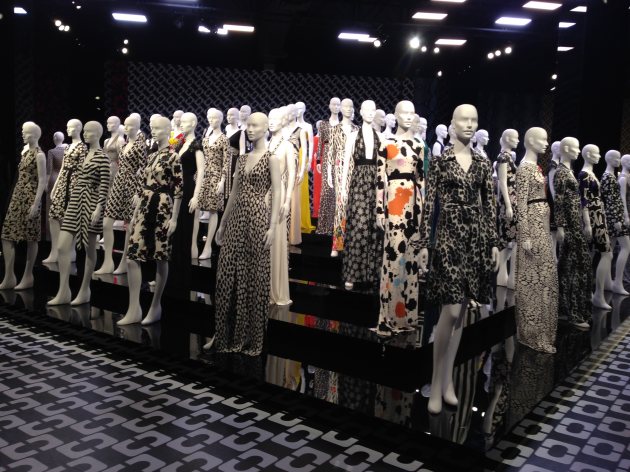 Some of the more famous prints are also on the walls and floor and we went crazy taking all kinds of fun, fashiony photos.
Some people stopped and watched us as we turned a leopard print backdrop into our own personal photo session. Most people seemed amused though.

What a bunch of posers! LOL!
We had the best time, it was a great idea and one of my favorite birthdays ever — so worth the wait!
And… that's a wrap.
-- Ryan Patterson