"The Real Housewives of Atlanta's" NeNe Leakes was there the night the lights (and weaves!) went out in Georgia during the show's reunion brawl between Kenya Moore and Porsha Williams. But, who is the show's Queen Bee siding with?
"I don't think that people enjoyed tuning in to see us pull one another's weave out and scratch and kicking in our Louboutins," NeNe told Access Hollywood's Shaun Robinson during a "Dancing with the Stars" rehearsal on Thursday. "I don't think people enjoyed seeing that kind of stuff."
When it comes to where NeNe's allegiances lay, she's firmly on Team Porsha, despite Porsha turning the epic argument into a physical altercation.
PHOTOS: See Porsha Williams' Mug Shot, Plus More Celebrity Mug Shots!
"If you are provoking, if you can sit and call another woman a B word, you can call them dumb, you can call 'em whores, you can point things in their face and then, when there's retaliation you have a problem with that?" NeNe said of Kenya, who brought a scepter and a megaphone to the reunion set.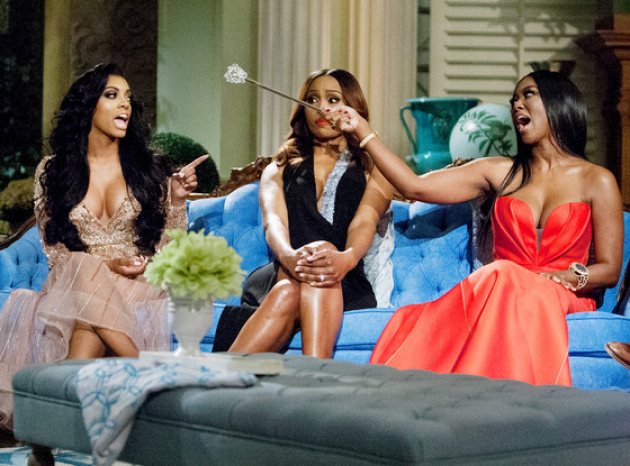 "And then you stand up and say, 'I don't condone violence.' Well, then what do you condone?" NeNe continued.
NeNe believes Bravo thought Kenya's theatrics would make for dramatic TV of the non-violent kind, but she thinks a line was crossed when Kenya got a little too close to her co-star.
PHOTOS: Hollywood's Infamous Celeb Feuds
"I think [the producers] thought it was going to be funny," she said looking back. "[But,] we had discussed this with the production, with Bravo, that personal space is something that is serious. You're not allowed to just take someone's space and act like there should be nothing that will happen."
Following the melee of tangled couture and snatched wigs, NeNe explained that she rushed to Porsha's side in an attempt to shut her up.
"I was just covering Porsha's mouth. I was like, 'Shhh! Don't say anything else honey 'cause you already in enough trouble. You about to incriminate yourself,'" she told Access.
WATCH: 'The Real Housewives' Brawl: How It All Went Down
So has the great brawl of 2014 left NeNe feeling a little less peachy about life on "RHOA"?
"For me, ['The Housewives'] has been a blessing and a curse. So I can't say that I will come back, I can't say that I won't! I can say this – every season I have quit the show!" NeNe said.
See NeNe perform the Argentine Tango (will she work in a scepter or a megaphone?) next week on "Dancing with the Stars" on Monday at 8/7c on ABC.
-- Jesse Spero