Your Daily Roundup of Celebrity Gossip & Star Shenanigans!
BEST.OSCAR.MOMENT.NOT.TELEVISED: We're not sure who we love more in this epic Oscars photo, Jennifer Lawrence for attempting to snatch the Oscar she lost or Lupita Nyong'o (and the amazing look on her face) for holding on to it for dear life!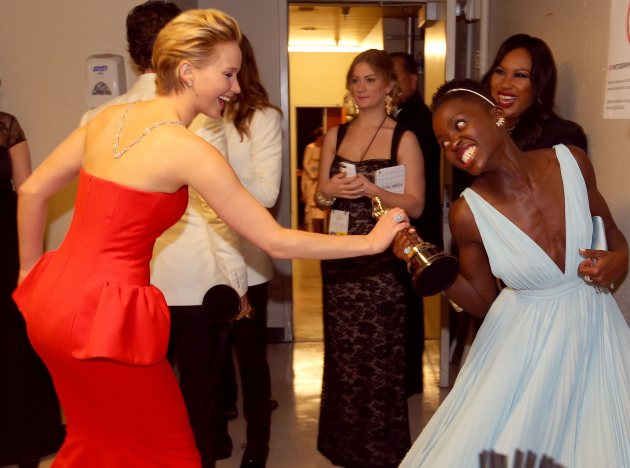 Can we get these two get an Oscar for this photo?
Travolta, Fail!: In case you missed it, John Travolta's epic mispronunciation of Idina Menzel came out sounding like "Adele Dazim," or something!?
And naturally, it didn't take long before someone pondered how the actor might pronounce the rest of Hollywood's names. [Buzzfeed]
And Then This Happened!: The birth of @AdelaDazeem & @AdeleDazeem on Twitter! Let the mispronunciation Tweets continue!
Frangelica Joe Lee looks like she's wearing a dress by Dolce and Gerbino tn #Oscars #Oscars2014 #LetItGo

— Adele Dazeem (@AdeleDazeem) March 3, 2014
Some Love For The Men Of The Oscars!: The ladies tend to get all the attention on the red carpet, but this year's Oscars men were looking dapper with some bold attire choices! [AccessHollywood.com]
Oscar Style Stars: Who rocked the Oscar red carpet the best? Take a look at the best (and worst!) looks from the Hollywood's biggest and best red carpet! [AccessHollywood.com]
-- Jesse Spero