In today's Glam Slam feature: Once upon a time… there was a little girl obsessed with all things wedding related.
That little girl is my daughter and when we were recently invited to my step-sister Jordan's nuptials in South Carolina, she really wanted to make the trip.
"Mom, it might be the only wedding I'm invited to…(wait for it)…while I'm five!" she said.
I didn't realize how much this meant to her — to go to her first wedding, instead of just reading or seeing Ariel and Prince Eric or Cinderella or Rapunzel or any other Disney princess tie the knot. She and her friends love to talk about who they will marry and she enjoys pretending she's a bride — complete with bath towel standing in for a veil.
So imagine how thrilled she was to actually be in the wedding and wear a beautiful flower girl dress and to drop rose petals on the aisle! Because she really didn't have a concept of what happens at a wedding, it was all so new and exciting for her. So to think about that and see it through her eyes for the first time, was a reminder of what a wonderful thing a wedding is. I still remember my first wedding — I was only 3, but my flower girl dress and fancy hairdo made an indelible impression!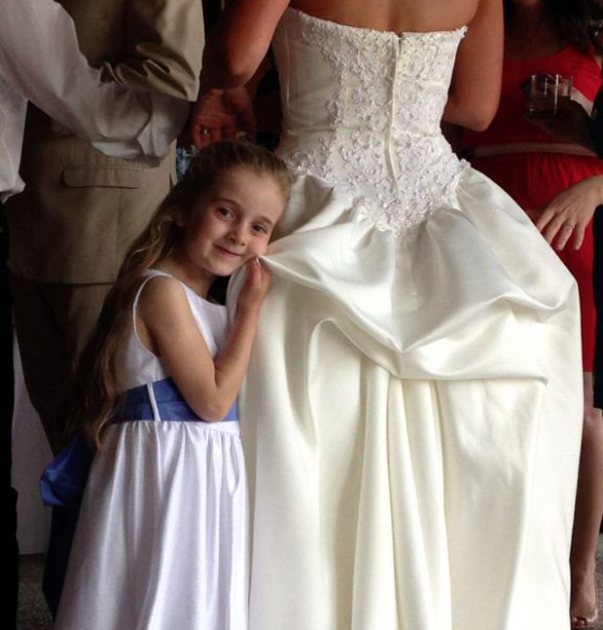 The I do's were overlooking a pretty lake at a beautiful location outside of Charleston. It truly looked like something out of a magazine and there were plenty of Southern touches including, a special wedding cocktail served in mason jars, as well as Low Country cuisine like chicken and waffles, pickled okra and shrimp and grits. Yum!
My daughter had the night of her life. She danced with everyone, ate too many popsicles from the gourmet pop cart and spent too much time in the photo booth! I think her favorite part was watching the newlyweds cut the cake. When it came time to leave, I practically had to peel her away from her new BBF…that's best BRIDE friend.

I'm sure Harlow will cherish many memories from this special day and we want to send huge congrats to Jordan, who made an incredibly chic bride, and her groom Nathan, truly the nicest guy ever. Wishing you both many years filled with love, laughter and happiness. And as my daughter likes to say "They Lived Happily Ever After."
-- Ryan Patterson