Your Daily Roundup of Hollywood Happenings & Star Shenanigans!
That Ink Was Erasable!: Melanie Griffith took her split with Antonio Banderas to a whole new level. The actress stepped out on Tuesday, and her estranged husband's name had been removed from her arm heart tattoo. The 56-year-old first got the "Antonio" ink back in 1998, and yesterday the heart was still on her arm (which she showed in a sleeveless shirt) but the actor's name was gone. The couple announced their split – after nearly 20 years of marriage – last week.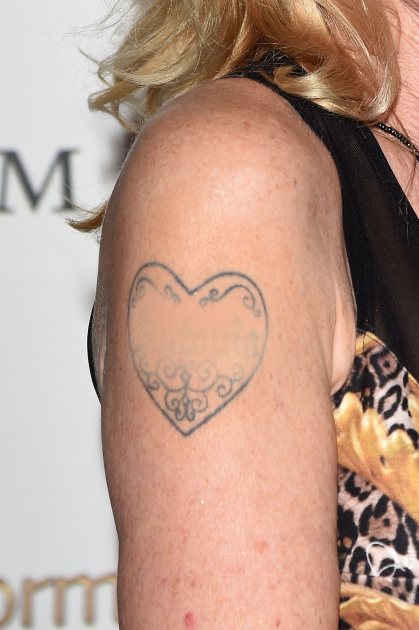 (Detail of Melanie Griffith's tattoo at the 60th Taormina Film Fest on June 17, 2014 in Taormina, Italy)
PHOTOS: Guess The Celebrity Ink!
How To Deal With The Pesky Paps: Emma Stone and Andrew Garfield found a creative way (that included a good cause) to handle the often intrusive paparazzi. After being followed by photographers, the couple made signs which they held in front of their faces. "Good morning! We were eating and saw a group of guys with cameras outside. And so we thought, let's try this again. We don't need the attention, but these wonderful organizations do," Emma's sign read. Andrew's sign read, "www.youthmentoring.org,www.autismspeaks.org (and don't forget) www.wwo.org, www.gildasclubnyc.org. Here's to the stuff that matters. Have a great day!"
(Andrew Garfield and Emma Stone are seen on June 17, 2014 in New York City)
Kim Spent $20 On Kanye's Birthday Gift: Kim Kardashian is keeping it thrifty when it comes to husband Kanye West's birthday. According to Us Weekly, she only spent $19.99. (at least for one gift, we're fairly certain there were multiple gifts!) on a yet-to-be-released My Monopoly board, which you can customize. Should Kim "advance to Go" with this gift or "go directly to jail"?
Hart Does Not Heart Rollercoasters: Kevin Hart talks a tough game, until you put him on a rollercoaster! Check out the actor/comedian and Jimmy Fallon losing it on Universal Studios' Hollywood Rip Ride Rockit coaster.
-- Jesse Spero