Your Daily Roundup of Hollywood Happenings & Star Shenanigans!
Miley Cyrus & Seth Rogen's Knee Connection: In news we could have never imagined, Seth Rogen's face can be seen on Miley Cyrus' knee – or maybe just a shadow that looks shockingly like the "Neighbors" actor. Buzzfeed was first to spot the uncanny knee/face resemblance from a shot of Miley performing this week in London. As for Miley and Seth, they appear to have bonded over it on Twitter. "Apparently my knee is my #MCM @Sethrogen evil twin," Miley wrote. Seth responded with, "@MileyCyrus you know why knees are the best body parts? They're joints! (I'm sorry. I had to)"
.@MileyCyrus you know why knees are the best body parts? They're joints! (I'm sorry. I had to)

— Seth Rogen (@Sethrogen) May 13, 2014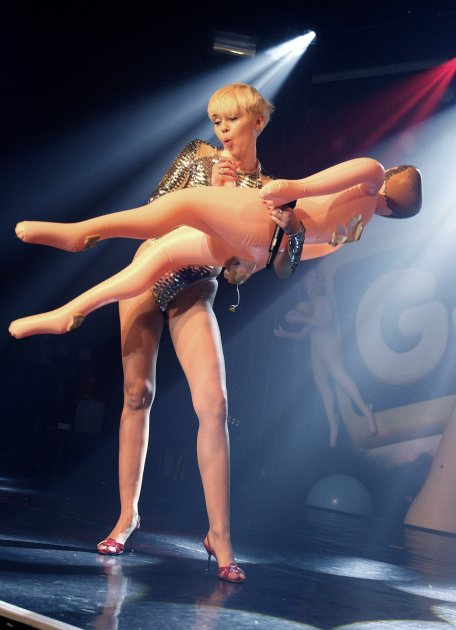 (Miley Cyrus performs on stage on May 9, 2014 in London - Getty Images)
(Miley Cyrus' knee / Seth Rogen - Getty Images)
Zac: The Superhero?: Will Zac Efron be the next star to join the Marvel Universe? According to Latino Review, the actor is in talks to for a role in an unspecified Marvel project. Could it be the lead in the "Daredevil" Netflix series? A role in future in a future "Guardians of the Galaxy" movie or "Dr. Strange"?
PHOTOS: Hot Shots Of Zac Efron
James Franco Slams "Spring Breakers" Sequel: One person not excited about the upcoming "Spring Breakers" sequel is James Franco, who slammed the idea in an Instagram post: "This is not being done with Harmony Korine or my consent. The original was wholly Harmony's creation and these producers are capitalizing on that innovative film to make money on a weak sequel. I want everyone to know that whoever is involved in the sequel is jumping on board a poison ship," he wrote in a photo caption. "It will be a terrible film, with a horrible reason d'etre: to make money off someone else's creativity. Can you imagine someone making the sequel to 'Taxi Driver' without Scorcese and DeNiro's consents? Insanity! I'm speaking up for Harmony and his original vision and for any creative person who cares about preserving artistic integrity."
We Can Barely Handle This Much Brit (& Irish) Power!: One Direction's Liam Payne and Niall Horan joined their powers with David Beckham and singer Ellie Goulding at the launch of Becks' swimwear line for H&M… the only way this pic could be improved upon is if someone had been wearing the swimwear!
(Liam Payne, Niall Horan, David Beckham and Ellie Goulding attend the private launch of David Beckham For H&M Swimwear at Shoreditch House on May 14, 2014 in London - Getty Images)
New "Transformers" Trailer: More Autobots, Decepticons, mass destruction, Optimus Prime riding a Tyrannosaurus rex Dinobot – plus a Transformer with a beard who is smoking a metal cigar (huh?) in the new "Transformers: Age of Extinction" trailer!
-- Jesse Spero