In today's Glam Slam feature: My 5-year-old and I posed with Charleston, South Carolina's famous "Hat Man" last week. It's a tradition for us… we take a photo of her with the ever-stylish guy every visit to show how much she's grown.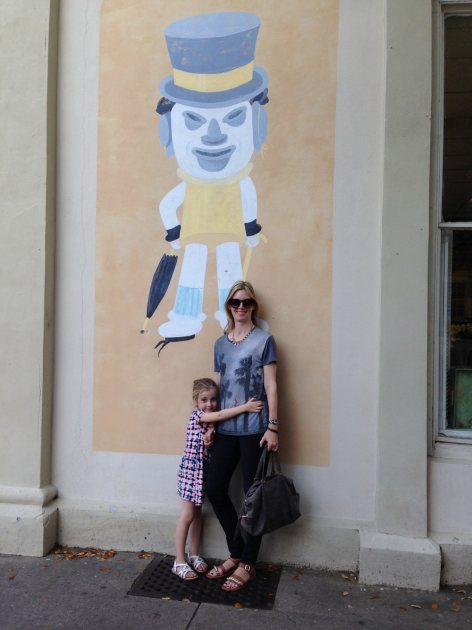 This was my daughter's first visit to my hometown during the spring, perhaps the best time of the year to visit. It was nice to experience a place that has real seasons — pollen and all.
Charlestonians, like people all over the country, have endured one of the longest and roughest winters in recent memory, so they were truly grateful for the beautiful warm weather and the first signs of spring. Their excitement was palpable and contagious. Los Angeles may have lots of warm weather, but after a while we take it for granted.
The dogwoods and cherry blossoms were starting to bloom. The azaleas added an explosion of color and remind me of Easter and spring breaks I enjoyed as a kid growing up in Charleston. The trees and grass were starting to green up the landscape.
It was warm enough to hit the beach…and the local beach cafés were packed with folks enjoying Bloody Mary's, fresh fried shrimp, and the chance to break out their suits and shorts.
As for the Southern style, there were the requisite bow ties, madras prints, and pearl necklaces. There was an abundance of bright sundresses. Coral, turquoise, yellow, green… every color of the rainbow well represented — not a black dress in sight.
No surprise that I spotted dresses in iconic Lilly Pulitzer prints and that most Southern staple — seersucker. In the moment I was tempted to buy a cute seersucker sundress I saw while shopping on Charleston's famous old-school shopping drag, King Street, where the stores had their pretty Easter decorations on display.
No extreme humidity and no bitter cold — it was a great visit. And fun for me to break out my own spring duds — shades, new sandals and (Palm tree!) tee — fitting for the occasion!
-- Ryan Patterson