In today's Glam Slam feature: It was an embarrassment of riches, when it comes to fab fashion this weekend.
MTV Movie Awards…GLAAD Awards ..Coachella.
Our style cup runneth over and we love it that way.
MOST COLORFUL
We haven't seen much of Lupita Nyong'o since her big Oscar win capped off an entire award show season fashion parade. But her style winning streak continued this weekend at the MTV Movie Awards in a geometric printed dress by Chanel, paired with bright blue Casadei pumps. The embellished dress, from the Fall/Winter 2014/15 Collection is colorful, chic, perfect for MTV and just plain FUN!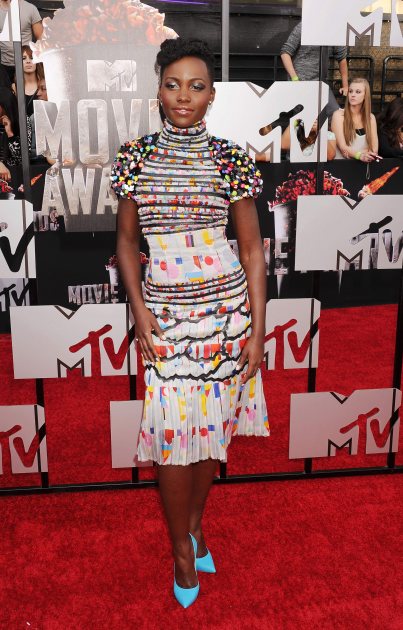 BEST CROP
Jessica Alba showed some midriff, but kept things classy in a flirty two piece ensemble at the MTV Movie Awards. Cropped tops are one of spring's biggest trends and Jessica pulls it off brilliantly. Printed pumps add texture and a structured black bag, gave the look some edge and kept it from looking too precious.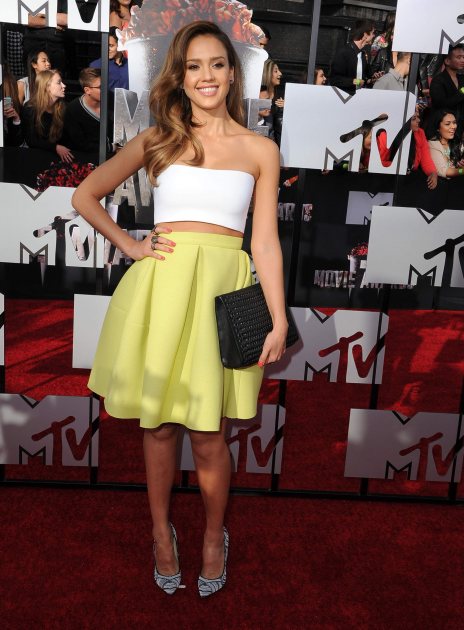 BEST MAKE-UNDER
Oh Nicki you're so fine…Nicki Minaj toned things down, wayyyyyy down at the MTV Movie Awards. She wore a simple, sophisticated black Alexander McQueen dress with lots and lots of gold…five cuffs, rings, a gold collar necklace and bold earrings. I didn't miss the crazy wigs, makeup or outfits. At. All.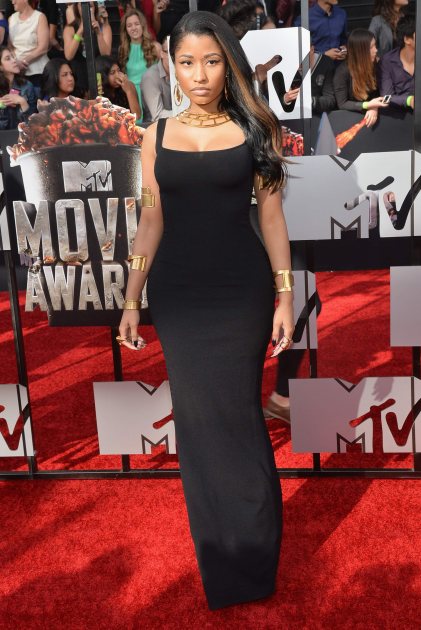 BEST SHEER
Jennifer Lopez wowed in her go-to designer Zuhair Murad at the 25th Annual GLAAD Awards. The sheer couture dress features cobalt blue beaded branch pattern. "I like simplicity, classic and sexy," she told Access Hollywood's Shaun Robinson backstage. "If I had to describe my style, that's what it would be." We agree and always look forward to seeing what she wears on Idol every week!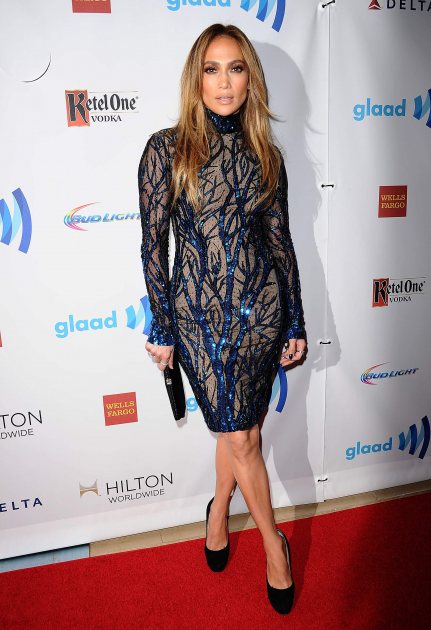 BEST FESTIVAL STYLE
Sienna Miller – the original poster girl for Boho Chic- continues the trend in a shorts ensemble perfect for Coachella. Seen here with models Cara and Poppy DeLevingne, her lacey white camisole and printed shorts by Chloe are easy, breezy and effortless. Some people went a little over-board with their over-the-top festival style- not Sienna, who nailed the vibe.
-- Ryan Patterson