Vitalli Sediuk has done it again. Hollywood's current most infamous prankster/celebrity irritant struck again on Wednesday night, where he allegedly assaulted Brad Pitt on the red carpet of Angelina Jolie's "Maleficent" premiere.
Sediuk (who was not credentialed as press for the event) was arrested on suspicion of misdemeanor battery, following the incident at the El Capitan Theatre, where police say he jumped over a barrier on the red carpet, rushed toward Pitt and "made contact" with the actor before security detained and escorted him away.
"This was an unfortunate and inappropriate incident that is being investigated by the LAPD," a Disney spokesperson told Access Hollywood on Thursday.
Unfortunately for the stars, Pitt is just the latest victim of Sediuk's juvenile, yet headline-making, antics.
Earlier this month, Sediuk – a 25-year-old Ukrainian "journalist" — was the man who got down on all fours and stuck his head under America Ferrara's dress while she was on the red carpet for the "How to Train Your Dragon 2" premiere in Cannes.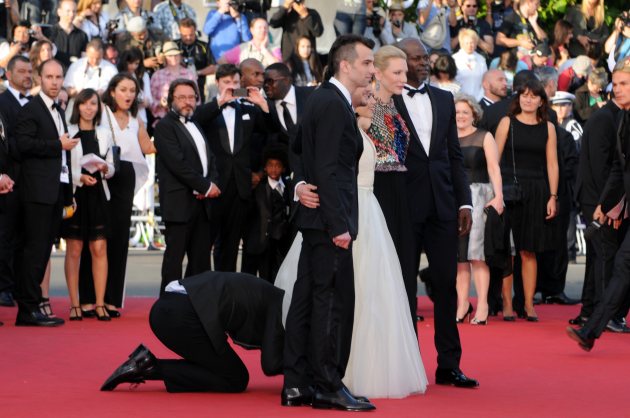 (Getty Images)
At the 2014 SAG Awards in January, it was Bradley Cooper who found himself the target of Sediuk's antics, as the prankster wrapped himself around Cooper's legs while the "American Hustle" star posed with Michael Pena and Mandy Patinkin on the red carpet.
(Getty Images)
Sediuk brought his shenanigans from the red carpet to the stage at the 2013 Grammy Awards, where he rushed the stage in an attempt to ruin Adele's Grammy win for Best Solo Pop Performance. Jennifer Lopez, who was on stage to present the award with Pitbull, cut Sediuk's attempt short, and he left the stage after saying "I love you, Adele."
In May 2012, Sediuk was the man infamously slapped by Will Smith on the red carpet in Moscow after Sediuk tried to kiss the "Men in Black 3" star.
"He tried to kiss me on my mouth! He's lucky I didn't sucker punch him," Will was heard saying at the time.
"He says, 'I'm you're biggest fan, can I have a hug?'" the star explained to David Letterman following the incident. "So I go to give this joker a hug, and he tries to lean in and kiss me!"
Adding, "It's just awkward!"
And in September 2011, even Madonna wasn't immune from Sediuk's behavior, as he was the one who presented the singer with hydrangeas – prompting an eye roll from her Madgesty.
Madonna then poked fun at the incident, writing a love letter to the forsaken flowers.
— Eric Anderson

Copyright © 2023 by NBC Universal, Inc. All Rights Reserved.
This material may not be republished, broadcast, rewritten or redistributed.